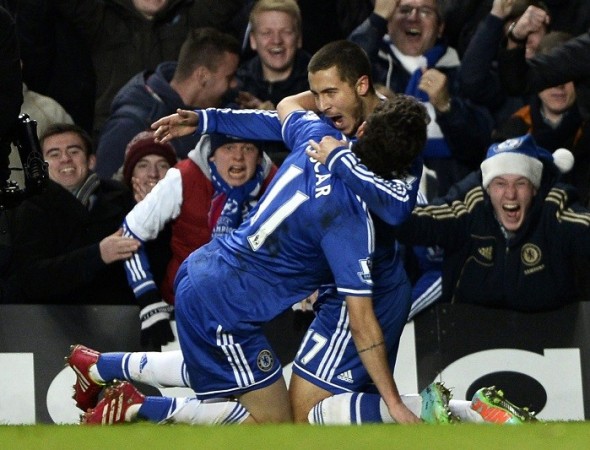 Luis Suarez was the centre of attention the last time Liverpool played Chelsea - for the right, scoring a late goal, and the wrong, the infamous biting incident, reasons.
However, in the high-profile English Premier League game of the highest Chelsea order on Sunday, Suarez was nullified, kept quiet and rendered quite ineffective as the Blues, quite wonderfully, eased their way to a 2-1 victory to pull to within two points of leaders Arsenal, who beat Newcastle earlier in the day.
Liverpool had a that-was-an-outstanding performance against Manchester City on Boxing Day, but on Sunday, at Stamford Bridge, the men in red were overrun by Chelsea's attacking power, and tactical nous, with an early Martin Skrtel goal unable to give the away side any points, as Eden Hazard and Samuel Eto'o struck back with authority and in some style.
From topping the table in Christmas, the two consecutive losses have consigned Liverpool to fifth in the table, while Chelsea go into the New Year, with an assured, confident and quite convincing performance behind them in the final game of 2013.
There were a couple of interesting inclusions in both sides' starting XIs, with Liverpool playing with three central defenders, as Daniel Agger was given the left-back position, before later going into a back-three in the second half following an injury to Joe Allen.
Chelsea started with all four of their centre-backs, with Branislav Ivanovic in his now usual right-back slot, while don't-really-know-what- his-best-position-is David Luiz started alongside Frank Lampard in midfield.
The game warmed up in just the third minute as Liverpool, still smarting from that unlucky 2-1 defeat at Manchester City, scored the opener, just like they did on Boxing Day.
There was no pretty play, and then an assured finish this time around, however, as the goal came from a straight run of the mill setplay -- Luis Suarez ghosting in ahead of Ivanovic - no biting involved - with the ball skimming the Liverpool striker's head and then deflecting off Ivanovic for Martin Skrtel to pop in and ease into an empty net from a yard out.
If the home fans were worried about being put under the cosh from a confident Liverpool side, with Chelsea, like they did against Arsenal, happy to stay compact and hit on the counter, they were in for a pleasant surprise.
The goal just seemed to unleash the attacking prowess, so often hidden under Jose Mourinho, of Chelsea, as the home side played in the first half as well as they have all season going forward.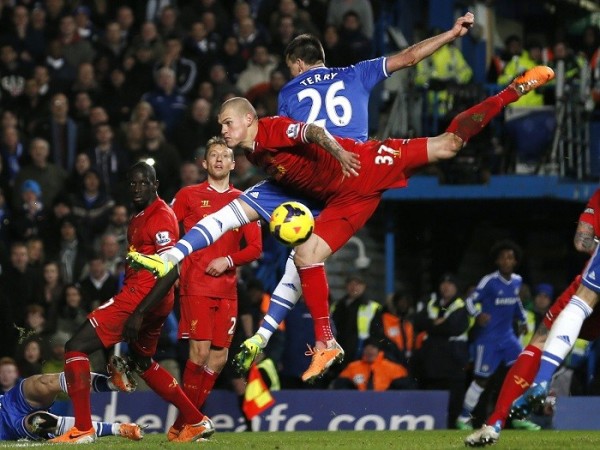 Oscar, after a couple of forget-me performances was buzzing in the No.10 role, while Hazard was his usual cut-in-and-I-take-a-shot or move-out-wide-and-I-play-in-a-lethal-cross self.
The pace of Chelsea's attacks were of the top drawer, with Simon Mignolet having to be quite alert to turn in a few goalbound efforts - Lampard, who had to be taken off at halftime due to a thigh injury, coming closest with a typical better-get-your-hand-to-it-or-it-goes-in screamer.
Chelsea got their deserved equaliser on 17 minutes off a lightning attack. Willian played the ball to Oscar, who looked to find Samuel Eto'o on the right-hand channel. The ball however, ricocheted off a Liverpool defender and fell perfectly onto the path of the onrushing Hazard, who did not need a second invitation to curl one delightfully past Mignolet from 20 yards.
Chelsea, while looking wonderful going forward, were also doing a gallant job of keeping I-shoot-I-score Suarez, who, much to Liverpool's detriment, was very much in the periphery.
It was Chelsea doing all the running at a bouncing Stamford Bridge, and it was no surprise when they went 2-1 ahead, courtesy some outstanding centre-forward play from Eto'o.
Oscar was again involved, with his first cross/control attempt rebounding back to him, allowing the Brazilian to gauge the situation and play in a perfect low cross towards the near post, with Eto'o springing ahead of Skrtel to poke the ball past Mignolet, who could do nothing to stop the ball from creeping in despite getting a hand to it.
Liverpool were a shadow of the side that took the game to Manchester City, the Premier League's best home side, and nearly came up trumps, as Chelsea stopped the away side from playing wonderfully well, by the way it should be done - not by having two banks of four, but by going on the attack themselves and thus preventing the side from having a major say.
Petr Cech was called into action a couple of times - by Allen in the first half, and then by Glen Johnson in the second, but that wow-this-side-is-just-brilliant-going-forward feeling was just not there, with Mamadou Sakho also coming close with an effort hitting the woodwork.
Suarez, of course he did, had a couple of could-have-been-one-but-also-understandable-why-it-wasn't-given penalty appeals turned down, with the frustration of not being able to have his say becoming more and more visible on his face as time wound down.
Brendan Rodgers gave Australia teenager Brad Smith his Liverpool debut, following an injury to Allen, while there was time for Mourinho to hand Torres a chance to impress in the final minutes against the side that made his one of world's most feared strikers.
Torres nearly scored a brilliant solo goal, bringing on the famous turn of pace, but Mignolet held on and so did Chelsea, at the other end, comfortably, to take an that-was-quite-good-impressed-nod-of-the-head three points.