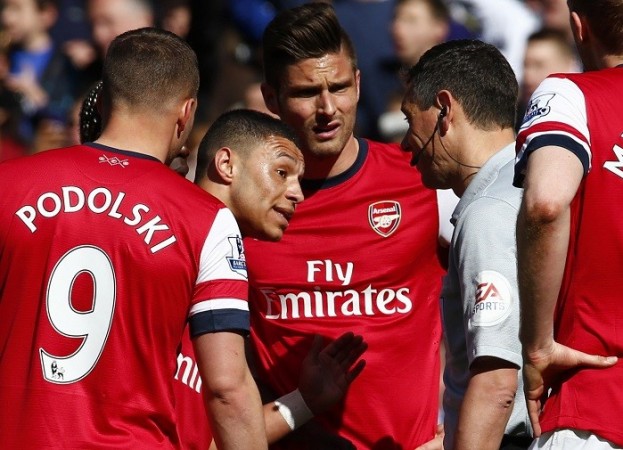 Where do you go from a 6-0 pounding to English Premier League title rivals Chelsea on Arsenal manager Arsene Wenger's 1000th game? Like Wenger keeps saying, all you can do is look at the next game and hope, hope being the operative word, for a better result with that particular match being against Swansea at the Emirates on Tuesday night.
After yet another capitulation of humongous proportions against a big team, Arsenal find themselves in a rather familiar position - a position they have been in pretty much the whole season - to prove their doubters there is a bit more about this Arsenal side than the past ones - this team will not just settle for fourth and yet another Champions League place.
However, at the end of the day, the only thing that matters is results, and the 6-0 thumping means Arsenal are now seven points behind leaders Chelsea, albeit with a game in hand.
"You cannot only just move on, you have to analyse what you've done and react," Arsenal vice-captain Mikel Arteta told the club's official website. "I'm expecting a big reaction on Tuesday because we have to and Saturday was not good enough for this football club.
"The pressure we put on ourselves by losing games like that is massive and there's no need for it. We just disrupted the good season we were having. I don't know what else to say apart from sorry to everyone at the club, the fans, and we promise that we will try hard to put that right."
However, even a win over Swansea, a big win - something Arsenal have rarely achieved this season - might not be enough. With Manchester City visiting the Emirates on Saturday, the title chances for the Gunners could be done and dusted if they fail to pick up anything but a win - in fact for all you know, it might just be over already.
"It just means that we have played about 40 games this season and it's not what happened on Saturday that reflects the quality of this team," Wenger said. "We have 62 points that we earned hard with quality games and that's what we want to focus on, to get back to that quality. We go back to basics.
"Of course you need to analyse as well the fact that we were down to 10 men [at Chelsea] and the offensive quality of Chelsea on the counter-attack is very good.
"You have to put that into perspective, we just came out of two convincing results at Bayern Munich and at Tottenham with a very solid defensive performance so you have to think that [Chelsea] was an accident.
"How do you deal with the accident? You repair them, you repair the damage and you go for the next one. The response has always been very strong and I'm convinced it will be again on Tuesday."
But accidents don't happen three times in a season. A title-calibre side do not lose 6-3, 5-1 and 6-0 to your fellow contenders in one season now do they?
For Swansea, desperate for points themselves as they look to pull away from the relegation battle, it will be pretty simple - they will either face an Arsenal backlash, or they will be up against a side bereft of confidence and ripe for the picking.
Garry Monk will be hoping it is the latter, even if he is expected the former. "We expect a reaction from them [Arsenal]," said Monk, whose side are four points ahead of third bottom Sunderland. "That's the message to the players. But we'll try and put on the right performance to get a result.
"I was very surprised by what happened against Chelsea, but obviously circumstances played a part in that. We have to be aware of that and try to counter it. We know it is going to be a very tough game and we're in for a hard night."
Where to Watch Live:
English Premier League: Arsenal vs Swansea Live TV and Streaming Information (Match starts 7.45 pm GMT, 1.15 am IST, 3.45 pm ET)
| | |
| --- | --- |
| Country | TV Broadcaster |
| India | Star Sports 2, Star Sports HD1 |
| US | NBC Sports Network |
| Canada | Sportsnet |
| United Kingdom | Arsenal Player (Audio) |
| Middle East | Bein Sports Arabia |
| Australia | Fox Sports |
| South Africa | SuperSport |
Team news: Arsenal: Kieran Gibbs and Alex Oxlade-Chamberlain are both available after the farcical red card to the left-back in the game against Chelsea.
"An Independent Regulatory Commission today heard two claims from Arsenal, one of mistaken identity and the other of wrongful dismissal, both in relation to Saturday's game against Chelsea at Stamford Bridge," the FA said in a statement.
"The commission ruled that the dismissal of Kieran Gibbs was a case of mistaken identity and transferred this to his team-mate Alex Oxlade-Chamberlain.
"Subsequent to deciding this matter, the commission then considered Arsenal's claim for wrongful dismissal in relation to Oxlade-Chamberlain. This claim was upheld, meaning Oxlade-Chamberlain will not serve any suspension with the standard punishment withdrawn with immediate effect."
However, the likes of Mesut Ozil, Theo Walcott, Aaron Ramsey and Abou Diaby all remain sidelined with Laurent Koscielny joining them after picking up a calf injury in the loss to Chelsea.
Swansea: Michu and Jonjo Shelvey returned from injuries recently and Monk will hope the duo will play a big part on Tuesday.
Key men: Arsenal: Alex Oxlade-Chamberlain had a bit of a nightmare against Chelsea, and the midfielder will be desperate to make amends by putting in a sparkling performance at the Emirates on Tuesday night.
Swansea: Michu scored two goals the last time Swansea played at the Emirates, and the Spanish forward, coming back after a long-term injury, will hope to have a similar impact.
Expected lineups: Arsenal: Fabianski; Sagna, Mertesacker, Vermaelen, Gibbs; Arteta, Oxlade-Chamberlain; Gnabry, Rosicky, Cazorla; Giroud.
Swansea: Vorm; Rangel, Chico, Williams, Davies; Britton, Canas; Hernandez, Michu, Routledge; Bony.
Prediction: 2-1 to Arsenal