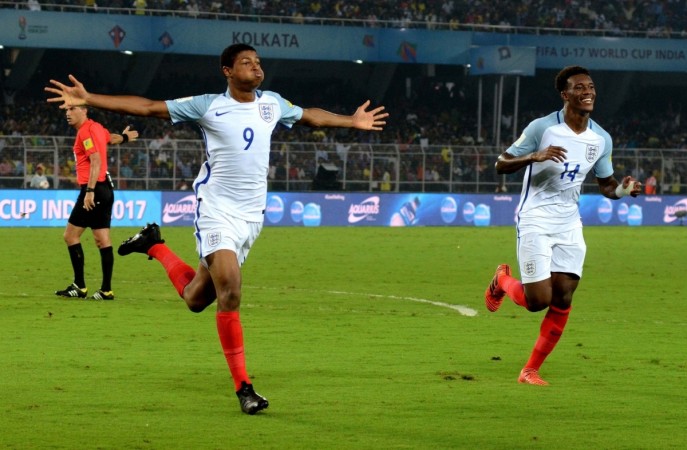 As we get set for the grand finale of the 2017 FIFA U-17 World Cup between England and Spain at the Salt Lake Stadium in Kolkata on October 28, here are the top things you should know:
1. Elite European Finale:
Three confederations (Africa, Europe and South America) were involved in the semi-finals of the FIFA U-17 World Cup India 2017, but only one confederation will be represented in the tournament's showpiece final on Saturday. England and Spain edged out Brazil and Mali respectively, with each side inspired by their star strikers Rhian Brewster and Abel Ruiz, who continue their personal duel to win the Golden Boot award, as the tournament's top scorer.
2. Repeat of European U-17 Championship 2017:
The grand finale at the Salt Lake Stadium on October 28 will be a repeat of the European U-17 Championships in Croatia in May when Spain emerged champions by beating the 'Young Lions' 4-1 in a penalty shootout after both sides were locked 2-2 after regulation time. England will by eyeing for the revenge and their first world championship title.
3. New World Champions:
Regardless of who prevails on Saturday's final in Kolkata, one thing is certain: after Nigeria, Switzerland, Mexico, Brazil, France, Ghana, Saudi Arabia and the Soviet Union, the FIFA U-17 World Cup will have a new winner and it's ninth in total.
4. Hat-trick Heroes:
In the history of the FIFA U-17 World Cup, only four players have scored two hat-tricks: Marcel Witeczek from Germany in the year 1985, France Florent Sinama Pongolle in 2001 and Souleymane Coulibaly of Ivory Coast in 2011. This year, England's star-in-the-making Rhian Brewster has added his name to that list.
5. Best Performance:
England's previous best performance in the tournament was reaching the quarter-finals in 2007 and 2011.
Spain has entered the final of the FIFA U-17 World Cup for the fourth time and their first appearance in the title clash after 2007. La Rojita are three-time losing finalists in 1991, 2003 and 2007 tournament.
Players to watch out for:
England: Rhian Brewster
Rhian Brewster is in the spotlight after his hat trick against Brazil on Wednesday put England into the Under-17 World Cup final. For the second successive game in this tournament, the Liverpool forward had put the opposition's challenge to rest by scoring successive hat-tricks in the knockout stage.
England has certainly found Brewster at the right moment. This is the first time England will play in the final in their fourth attempt, and the national side needs him to deliver one more time in the final against Spain.
Spain: Abel Ruiz
Abel Ruiz is the captain and leading goal scorer for La Rojita in the tournament this year. He got two goals to his name against Mali in the semi-finals.