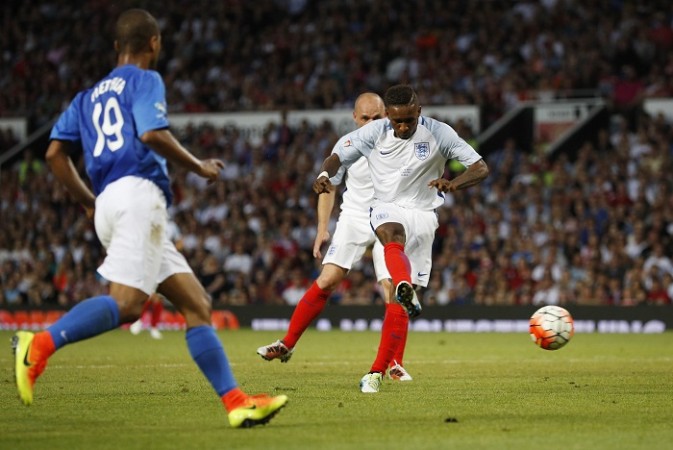 The sixth edition of the Soccer Aid charity match witnessed England defeat Rest of the World 3-2 at Old Trafford on Sunday. Sunderland striker Jermain Defoe played a huge hand in the win, scoring a brace to help his team script victory.
With stars such as Cafu, Edgar Davids, Japp Stam and Ronaldinho among the participants of the charity game, it was expected to be a highly entertaining match. The fans at Old Trafford were not disappointed as Ronaldinho showed his trickery, while former Manchester United striker Dimitar Berbatov, with his lazy elegance, wowed the crowd.
The match was made much more interesting by the presence of celebrities such as Olly Murs, Robbie Williams, Damien Lewis and more. Though such matches are always said to be played lightly, a second minute tackle by Phil Neville on Nicky Byrne showed that the game will be taken seriously. With Neville and Jamie Carragher in the pitch, such challengers were on the cards.
It was all England in the first 30 minutes or so, but they were not able to break the deadlock. Despite their dominance and a number of efforts, the two teams went into the break with the scoreline at 0-0.
However, majority of the action took shape in the second half, with a spectacular freekick by England's Mark Wright from 35-yards opening the scoring. But, their joy was shortlived as Ben Shepherd was shown a red card in the 53rd minute. To make things worse, Berbatov scored a goal the next minute, helping Rest of the World draw level. Berbatov then slotted home a penalty in the 58th minute.
However, England's Defoe equalised in the 65th minute with a neat finish, and followed it with another goal in the 75th minute, which proved to be the winning goal as well.
The match was not much about the result, but about the objective of the fixture, as £5,391,398 was raised for UNICEF from the charity match.
England vs Rest of the World Soccer Aid 2016 highlights