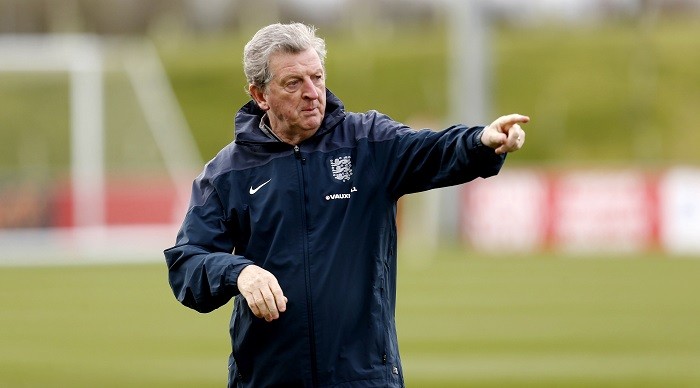 England boss Roy Hodgson has confirmed that Arsenal striker Danny Welbeck and Liverpool winger Raheem Sterling have been ruled out of Tuesday's friendly clash against Italy due to injuries.
While Welbeck picked up a knee injury during England's 4-0 2016 Euro qualifying win over Lithuania on Friday, Sterling, who scored and assisted a goal, has also been sent back to Liverpool due to an existing toe injury.
"We have had two blows because I have always known that Raheem Sterling was waiting for an injection in his toe and he has been playing through an injury for a while now," Hodgson told ITV Sport.
"Raheem has done well to play through it, but I have known for a while that he needed this injection and I agreed with him and Brendan [Rodgers] that he would play tonight's game and then he would have the injection."
Despite admitting that England are going to miss Welbeck and Sterling against Italy on Tuesday, Hodgson feels that this gives a chance to someone else to step up.
"We are going to lose both him and Welbeck, which is a blow for us because they are an important part of a system we are trying to play. It will give a chance to somebody else."
Meanwhile, Hodgson insists that he is "very pleased" with Harry Kane's performance on his debut against Lithuania on Friday.
The Tottenham striker, who has been in top form this season, displayed his lethal touch by scoring in his international debut courtesy of an assist from Sterling.
And Hodgson says that he was delighted after seeing the 21-year-old in action on Friday.
"I'm very pleased with tonight's performance and delighted for Harry Kane," the former Liverpool boss told Goal. "There has been a lot of talk about him. It's been a great week for him, we're delighted to have him and let's hope it's the start of a long career for him."
"I think he will put pressure on himself because he's a good professional. I don't think he will buckle under pressure."
"The media spotlight has been enormous and he will have to accept it will do better. It's important we don't build him up to knock him down but build him up to be an important part of our future."