Happy Engineers' Day 2015.
The Engineers' Day is celebrated in India on the birth anniversary of the great Indian engineer, Mokshagundam Visvesvaraya (Vishweshwaraya), who was born on 15, September, 1860.
A scholar, statesman and the Diwan of Mysore, Visvesvaraya also received Indian Republic's highest honour, Bharat Ratna in 1955.
The theme of this year's Engineers' Day is "Engineering Challenges for Knowledge Era".
Who was M Visvesvaraya?
Visvesvaraya, a civil engineer graduated from the College of Engineering in Pune was the chief designer of the flood protection system of Hyderabad in Telangana and chief engineer of the Krishna Raja Sagara Dam in Mysore. He also played a key role in developing a system to protect Visakhapatnam port from sea erosion.
The engineer was also responsible for the founding of The Mysore Soap Factory, The Mysore Iron & Steel Works in Bhadravathi, The Parasitoide Laboratory, The Sri Jayachamarajendra Polytechnic Institute, The Bangalore Agricultural University, The State Bank of Mysore, The Century Club, Mysore Chambers of Commerce, University Visvesvaraya college of Engineering, Bangalore and many other industrial ventures.
Check out some quotes by famous personalities on the importance of engineering profession below:
Science is about knowing; engineering is about doing. — Henry Petroski, American engineer
At its heart, engineering is about using science to find creative, practical solutions. It is a noble profession. — Queen Elizabeth II
Architecture begins where engineering ends. — Walter Gropius, German architect
Software is a great combination between artistry and engineering. — Bill Gates, Co-founder of Microsoft
Check out some Funny Messages to be shared with engineers on Engineers Day 2015 below:
We build the world (Civil Engineer.)

We build the magic world (Comuter Engineer)

We connect the world (Electronics & Communication Engineer.)

We are the powers of world (Electrical Engineer)

We move the world (Mechanical Engineer)

PROUD TO B AN ENGINEER
4 yrs

40 subjects

400 experiments

4000 assignments

40000 hours

A normal human CANNOT do it.

Those super heroes are called

'ENGINEERING STUDENTS'

Happy Engineer's Day
You can be a Doctor and save lives.

You can be a Lawyer and defend lives.

You can be a Soldier and protect lives.

But why to play with others lives?

So we simply became engineers to screw up our own lives.

Happy Engineers Day
I can write 70 words per minute but I cant read my own handwriting.

I spend more time with my teachers than with my family.

I know the Euler's theorem but not my shirt size.

I have no life and can prove it mathematically.

I can translate English into binary.

Getting 40 marks out of 100 is a great acheivement for me.

My xerox bills are higher than my mobile bill.

Yes.... I am an Engineering student.

Happy Engineers Day 2015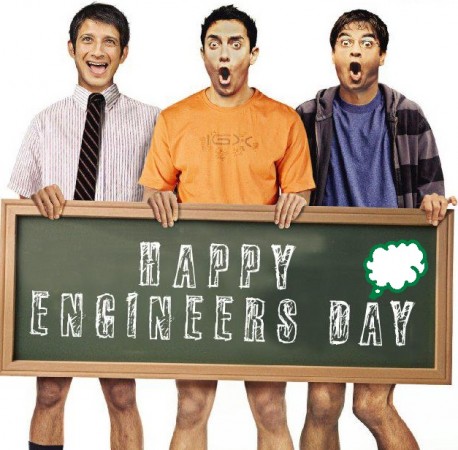 Everybody says Engineering is so easy that it is just like walking in a park

But only Engineers know that park is called Jurassic Park

Happy Engineers Day
Newton Asked How to Write 4 between 5

Pharma student : Good Joke

M.BA. student : Impossible

Engineer student : F(IV )E

Engineers R.O.C.K.

Happy Engineers Day buddies
On the sixth day God understood he cannot do it all, so he created engineers. Happy Engineers day.
Engineering Fact: We don't need a girlfriend...our assignments irritates us everyday...that's enough. Happy Engineers' Day
Firstly I would like to thank Google for allowing me to copy and paste and secondly to the Xerox machines. Haapy Engineer's Day