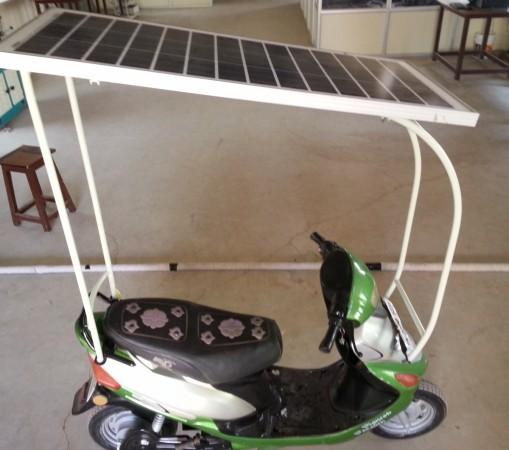 A team of final year mechanical engineering students have invented an eco-friendly solar bike at S.A Engineering College, Chennai.
The bike comes equipped with a solar panel on the top of it which helps in harvesting maximum solar energy. The solar power is converted into electricity that charges the battery. Charging the solar panel for five hours, will run the bike for 35kms at a speed of 45kmph.
The bike's battery can also be charged through direct electricity to run during rainy and winter season. The microprocessor controls the charging of the batteries, based on the charge which is available for use.
The bike does not require human intervention in switching ON and OFF of the charging module which is completely automated and controlled by the microprocessor. Future advancements such as replacing the lead acid batteries with Lithium ion batteries would help reduce the size and weight of the bike and supplying an increased level of charge as compared to lead acid batteries.
Integrating a smartphone with the bike would also help provide detail of aspect of the bike which would help to know the periods of servicing as well as keep a check on the bike's performance.
Speaking on this innovation, P Venkatesh Raja - Director, S.A Engineering College - said, "I am really happy and proud at this moment to see the impact of students and encouragement where they showcase this hi-tech eco-friendly solar bike in India. We would love to include special awards for the students to encourage them to continue their scientific endeavors."