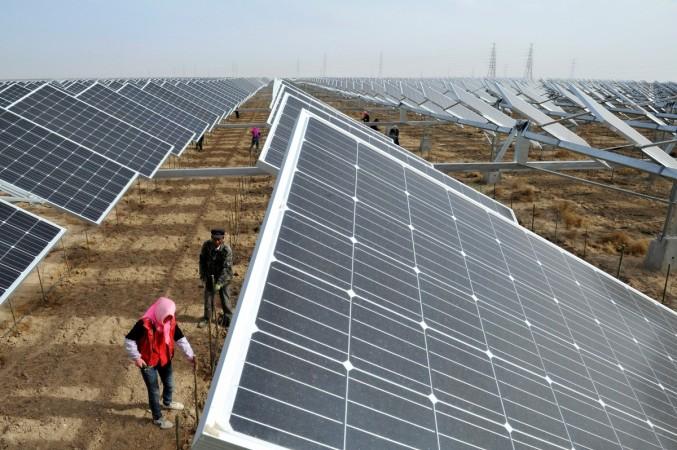 Will India need to realign the strategy it currently thinks of for its grid-based solar programme? If situations emerging on the ground are indications to go by, the answer is an emphatic YES.
A recently published report by International Renewable Energy Agency (IRENA) says India is expected to meet about 25% of its total energy requirements from renewables by 2030. The share of solar in this is calculated to be approximately 16%.
"With one of the world's largest and most ambitious renewable energy programmes, India is taking a leading role in the energy transformation both regionally and globally," IRENA's Director General Adnan Z. Amin said in a statement earlier this week.
IRENA thinks that increasing renewable energy deployment can save the economy twelve times more than its costs by the year 2030 – creating jobs, reducing carbon dioxide emissions, and ensuring cleaner air and water, with savings on health-related costs.
Meeting India's electricity demand, which has grown by 10% a year over the past decade, and attaining the country's economic growth targets will require significant investments in power-generation capacity and related infrastructure, and in transport, buildings and industry sectors, creating important opportunities for renewable energy deployment.
To attract easy investments into the domain, on its part, the government has eased environmental clearance rules for solar power projects and parks. The Union Environment Ministry this week said provisions of Environmental Impact Assessment notification 2006 that mandate environmental clearances for various projects would not be applicable to solar power projects and solar parks, although these projects would be required to follow basic environmental safeguards.
To reduce its carbon footprint in accordance with Paris climate conference, the country has an ambitious US$100 billion solar programme that envisages a 100GW generation (60GW grid-connected and 40GW rooftop) capacity by 2022. So far, the country has only achieved about 8GW of grid connected capacities.
However, the programme is likely to face with problems of sorts that were not easily perceived until now, and these projects are most likely to tread a not-so-easy path in years to come.
The chief of the issues, currently, is low-level tariffs getting fixed at against power purchase agreements (PPAs) between the developer and states.
From a levelised tariff of Rs 3.30 per kWh (US$51.5 per MWh), earlier this year, solar tariff reached a new low of Rs 2.44 per kWh (US$38 per MWh) at the fiercely bid auction of 500MW capacity at Bhadla solar park in Rajasthan in last May.
The parties that won the first bid for Rewa, Madhya Pradesh, project were Solar Energy Corporation of India and NTPC. The second bid for Bhadla, Rajasthan was won by Acme Solar Holdings and SBG Cleantech. The agreements are for long 25 years.
One can easily be tempted to read this as a good omen for solar industry and the country. For, fall in tariffs will help the industry gain an upper hand over conventional forms of energies such as coal and gas as desired. It, thus, can help the industry out surpass them easily and quickly.
But is it simply so? May not be. Investors in any business look for profitability of the venture and a financial comfort zone against any contingency before pumping in money hugely.
Low solar bids, while causing disruption in the power sector, have little financial buffers to face challenges such as cost overrun, increased interest rate and counterparty delays, says India Ratings and Research (Ind-Ra) in its recent report.
For the immense size of the investment, this is the time the country is expecting a crowd of investors in the domain, especially the foreign ones for their lower capital costs. A project financer, who didn't want to be identified, told the author of this report that worries over the profitability of projects will hold the serious investors back, at least for temporarily.
Fall in tariffs are despite a price rise for solar panels, which constitutes over 50% of project cost, in Chinese marketplaces by over 20% in last six months. Now, over 80% of India's solar panel needs are met from China alone should put this in perspective for any serious investor in the sector.
On the other side power procurers expect prices to fall further down along next set of tenders. It is being reported that several states are now staying away from entering into PPA with project developers. They want the tariff levels to fall further down. In one of such instances, Live Mintreported that Andhra Pradesh has refused to sign a PPA with NTPC's Kadappa project which was earlier awarded to Solairedirect SA for Rs 3.15 per kWh (US$ 49 per MWh).
There is another major issue faced by the solar developers of the country. In addition to the price hike, Chinese traders are reneging on their existing contracts with Indian developers. They are pressing to renegotiate them for higher module prices.
Jinko Solar, JA Solar Holdings, ET Solar, Chint Solar and GCL-Poly Energy Holdings are major Chinese module suppliers to Indian solar developers.
Several Indian solar developers are reportedly struggling to manage the situation so that project deadlines back home remain unaffected. As per new government policy a project deadline is sacrosanct, and failing to meet it attracts huge monetary penalties.
In essence, lack of clarity in policy is beginning to haunt India's solar dream. This is the time for the country to focus on formulating a linear policy that will walk its goal in time.
(Pradeep Kaimal is a Delhi-based energy journalist and analyst)