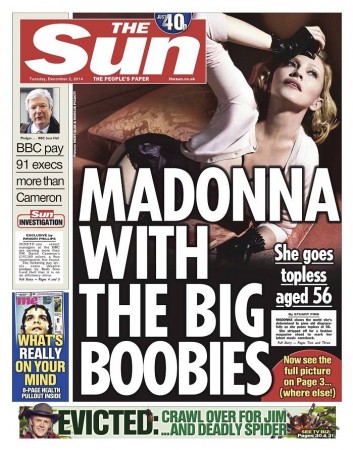 British tabloid "The Sun" has decided not to feature topless models on Page 3, ending a 44-year-old tradition.
The Rupert Murdoch-owned tabloid's 16 January edition was the last to carry images of topless models, though the online version will continue to feature such images.
The tradition of featuring bare-breasted models often invited sharp criticism, with many critics calling it 'sexist', 'offensive' and 'anachronistic', says The Guardian.
The tabloid said that last Friday's edition (16 January) will be the last that would "carry an image of a glamour model with bare breasts on that page."
The controversial segment was introduced in 1970, less than a year after Murdoch bought the title. However, over time, even he found the practice of showing bare-chested women archaic, and called the tradition "old fashioned" in 2014.
The Sun's Irish edition had dropped the topless Page 3 pictures back in August 2013, with Dublin-based editor Paul Clarkson attributing to "cultural differences" as the reason to do so.
There was also an online petition to stop the publication of "The Sun" which gathered over 217,000 signatures.
The 28-month campaign was launched in September 2012, by a woman who asked the paper's editor to "stop conditioning your readers to view women as sex objects".
The campaign got support from many organisations, such as the Girl Guides, the Girls' Brigade, most of the teaching trades unions, the College of Midwives, the Scottish parliament and the Welsh Assembly. Over 30 universities also voted to stop selling the tabloid until it stopped publishing topless images.
A spokeswoman for the campaign group 'No More Page 3' said: "This could be truly historic news and a great day for people power," adding, it "could be a huge step for challenging media sexism".
However, if the absence of images of topless models on Page 3 were to affect the newspaper's sales, the change may be reversed.