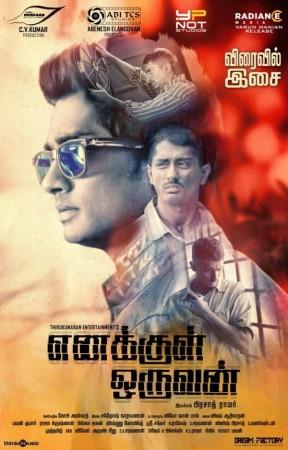 The music of Tamil film "Enakkul Oruvan" has opened to positive reviews. Critics have appreciated the consistency of music director Santhosh Narayanan in his compositions who had earlier composed songs for films like "Cickoo", "Jigarthanda" and "Madras".
"Enakkul Oruvan" is an upcoming fantasy drama film with Siddharth and Deepa Sannidhi in the lead. The film is directed by debutant Prasath Ramar and is the remake of 2013 Kannada film "Lucia" directed by Pawan Kumar.
The film has a total of five songs. The lyrics are penned by Muthamil, Ganesh Kumar Krish and Vivek, while they are sung by Siddharth, Santhosh Narayanan, Pradeep Kumar, Manicka Vinayagam and Dhibu Ninan Thomas.
Here are the reviews of the songs of "Ennakul Oruvan" by various critics
"Prabalamaagavey" – Singer: Siddharth, Lyrics: Muthamil [Listen Here]
"The starting loop makes you wait for the actual start of the song. A tricky, drippy trip of loops heard throughout the song. You're not listening to Abba or Daft Punk. This is Santhosh Narayanan. A hallucinating track with lots of highs and lows. Surprise factor? Siddharth renders some professional singing. The blues type's guitars, violins and the bass lines make this an electronic-retro classic." – Behindwoods
"Santhosh Narayanan makes you to drop whatever you're doing and starts to grab your attention within the first ten seconds... The lyrics explain the triumph of a rising star at the dream factory and the composer couldn't have chosen a better singer than Siddharth. The pause, stop, start, pick the pace strategy has been used well to give a pleasant experience throughout the song & Dj's will be picking this track for the dance floors right away." – India Glitz
"Trippy club music. Siddharth's rusty voice is apt for EDM-based tune. The celebrity in him has been reflected very well through the vocals and lyrics. The drop is deceiving, and this makes the number very unpredictable and mysterious. Sure to win over the discotheques for the next few months." – Movie Crow
"Endi Ippadi" – Singer: Santhosh Narayanan, Lyrics: Ganesh Kumar Krish [Listen Here]
"Starts off with a head banging jive and world class bass playing. Santhosh always finds a way to make simple songs extraordinary. He also takes the time to sing for this song. Highly accessible tune, foot tapping beats and easy lyrics. Vocal parts in the BGM and subtle rhythms work big time. His La pongal days are helping to churn differently sounding hit songs. Kanjira comes for a nano-second in the whole song and please be proud to notice it." – Behindwoods
"Santhosh shifts to the fifth gear after slowing down in the previous track and prepares you to encounter an all new world with the stupendous sound engineering. You would get to hear the western tune with the left ear while the classic Madras kuthu gets unfolded on the right. Santhosh's unique rendering adds more points to a tune which itself a winner from the very first second." – India Glitz
"Santhosh gets to the borderline between the heavy of western, the heavy of ours. Avery menacing folk number, rendered by Santhosh himself. Will hold its stand as one of the most colourful solos of the year." – Movie Crow
"Poo Avizhum Pozhudhil"- Singers: Pradeep Kumar, Lyrics: Vivek [Listen Here]
"The classic Pradeep and Santhosh. Give some time and space to this song, it'll grow into you. Guitar strumming in the background and the voice harmonies are total pleasure. Subtlety at its best. En moochi ninaivile part is the catch." – Behind Woods
"From the disco, the composer takes us with him to a walk along the beach. Santhosh's typical guitar work & Pradeep's magnetic vocals multiply the magnitude of this simple tune. The tune unfolds like the water run down on a hill and gains speed when hit a huge rock only to slow down after some time. A beautiful melody once again from the combo of Santhosh – Pradeep." – India Glitz
"Ventures in to new, tranquilizing grounds, usually heard in the Blues, along with traditional sounds of our time. A very soothing on the whole. Pradeep Kumar gets another good track to boast of in a Santhosh Narayanan album." – Movie Crow
"Kutti Pochi" – Singer "Manicka Vinayagam, Lyrics : Mathamil [Listen Here]
"This song has lots of music in it, meaning, the heavyweight technical treatment of the song. Bringing Ramesh Vinayagam is a relief. Supposedly a progressive, soft-folk number, more on the lines of a band like song." – Behind Woods
"It's been a while, we haven't heard anything from Maanicka Vinayagam and he gets everything right in this run along track with the situation of the story. Santhosh would have composed the song after getting the lyrics because of the minimal composition around the central theme. A middling track after two gorgeous numbers in the album." – India Glitz
"Manicka Vinayagam has a field day, start to end. Roosty tune, which retains its energy throughout, at the perfect dose required for expressing the feelings featured in the lyrics"- Movie Crow
"Yaar" – Singer : Dhibu Ninan Thomas, Lyrics : Vivek [Listen Here]
"A symphonic track with equal contributions from brilliant singing, electronic beats and piano sessions. A mood based song that can calm you down" – Behind Woods
"The album comes to an end with a pathos which reflects the life and dreams of the lead character. More than the vocals; the orchestration takes the centre stage to give a sensational affair with its unique beats." – India Glitz
"A calming number that progresses at the right place, with the magic actually happening behind the vocals in the forms of some brilliant minimalist orchestration. The loop in the background gets the "hazy" nature of the subject spot on! Brings the album to a magical end." – Movie Crow