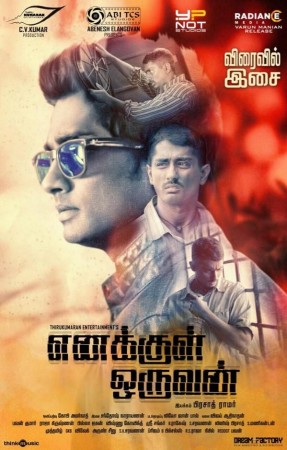 Siddharth's experimental movie "Enakkul Oruvan" has been released in India on Friday, 6 March. The Tamil movie has opened to positive reviews.
"Enakkul Oruvan" is directed by newbie Prasad Ramar and produced by CV Kumar, who has churned out a few low-budget hits films including "Pizza". It is a remake of Pawan Kumar's hit Kannada movie "Lucia".
The movie is a psychological thriller that has Santhosh Narayan's music, Gopi Amarnath's music and Leo John Paul's editing.
Early Reviews:
The movie has been well received by audience. Audience are impressed by the out-of-the-box storyline, brilliant narration and brilliant performance by Siddharth and other cast. Below, we bring you their live comments posted on Twitter:
Ananthavel Wrote
@Actor_Siddharth unbelievable performance n #EnakkulOruvan If Kaaviya Thalaivan was one extreme n his career, thn this s definitely another
Fab Flickz Wrote
#EnakulOruvan : #DeepaSannidhi's debut role in Kollywood. Does better in her village portions. Looks gorgeous.
#EnakulOruvan : Fantastic role for Naren & he proves his mettle. Santhosh Narayanan's music is apt, songs are also nice.
#EnakulOruvan : Well made choreo for songs, especially Poo Avizhum..' 'Endi Ippadi'.
#EnakkulOruvan : Screenplay by Pawan kumar, the original Lucia writer. No major changes in this version. Directed by debut Prasad Ramar.
#EnakkulOruvan : If you haven't watched #Lucia, don't miss it. Definitely watchable for its quality
SrtSenthil Posted
#EnakkulOruvan - Must Watch if u are a Matured Cinema Lover !! Prasath Ramar in the queue of Nalan Kumarasamy and karthick Subburaj
Bala Wrote
#EnakkulOruvan - Get u r ass & Go for it.. Worth for 120.. First good thing we got from Karnataka / Kannadigas .. #MustWatch
Common Man Sathish Posted
#EnakkulOruvan - Honest remake of Lucia with higher budget & wonderful music of Santhosh Narayanan
Sidhu Posted
Ah finally, the wait comes to an end. #EnakkulOruvan it is!
#EnakkulOruvan Interval: So far so good. Sid comes up with a fantastic act, along with splendid music by SaNa. Top class production value.
#EnakkulOruvan Interval: Saying this early, but the editing is award worthy. Transition with precision. Wah!
#EnakkulOruvan: Clever and coherent, inside and outside. An impressive product which gets really close to the original. Go watch it.
#EnakkulOruvan: Complicated screenplay which deserves your complete attention, executed perfectly. Camera, editing, music - top notch!
KAMALJII Posted
I felt #EnakkulOruvan shd have some comedy scene that can pull family audience ...
Vishwapriya Wrote
#EnakkulOruvan 'Vernacular' cinema has surely come of age. What superb tripping! Kudos to director, editor and script writer in that order.
Sai Shyam G Posted
#EnakkulOruvan - A faithful remake of #Lucia, but didn't rattle me up like Lucia did. Too flat at times! Complete review soon!
0 replies 0 retweets 0 favorites
Niveda Manohar Wrote
I'm just so happy I didn't watch #Lucia. Riveted by the twist in #EnakkulOruvan. @Actor_Siddharth keeps raising the bar with each flick! ^_^
Jananie Posted
Okay, last tweet was before I knew the twist, but loving the movie ! Brilliantly scripted movie. #EnakkulOruvan :D @Actor_Siddharth
Ragunath_MR Tweetd
#EnakkulOruvan - loved the twist!! Bt with some comedy scenes added it would hav worked more!!!@Actor_Siddharth