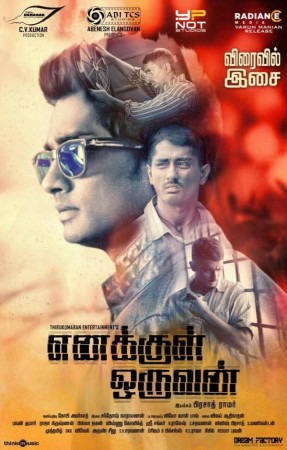 Siddharth's much-awaited "Enakkul Oruvan", which is the remake of Kannada hit movie "Lucia", will be released on 6 March. The pre-release buzz about the film is high and the expectations are also getting big.
Directed by debutant Prasad Ramar, the movie is assumed to be yet another well-defined cult movie in Tamil.
Here we are listing five reasons which might put "Enakkul Oruvan" in the list of one of the best movies of 2015.
Siddharth's Performance
Actor Siddharth's presence itself is seen as one of the biggest positives of the movie. The actor had proved himself with the release of his latest flicks including "Jigarthanda" and "Kaaviya Thalaivan".
Siddharth himself had admitted that his "Enakkul Oruvan" had offered him one of the most challenging roles. This is the actor's 25th movie and he will appear in two different looks and roles.
Script and Storyline
The script and storyline of the movie is said to be another highlight of the movie and sources close to the movie claims that it will "blow your mind". This was the case with the original version "Lucia" as its script and story was something that was never discussed before.
The Tamil version of the movie is written by Pawan Kumar who had directed "Lucia".
Production Value and Direction
Though the director of the movie, Prasad Ramar is a debutant, he has already proved his narrative skill as co-writer of the hit movie, "Pizza". Reports are that the director has completely visualised the movie in fresh perspective than opting for a copy-paste technique of the original version.
The production value of "Enakkul Oruvan" is something that has guaranteed audience with a success. Producer CV Kumar is noted for bringing out some of the best movies in Tamil and his previous production are enough to establish this. Some of his noticeable movies include "Pizza", "Soodhu Kavvum", "Thegidi" and "Mundaasupatti".
Music
Music by Santhosh Narayanan had already received its due credit with the release of the songs, which have already become a hit. His music is expected to contribute well to the narrative of the movie.
Cinematography
The cinematography is expected to be another highlight of the movie. Cinematographer Gopi Amarnath has already proved himself as director's cameraman with his movies like "Pizza", "Something Something" and "Irumbu Kuthirai".