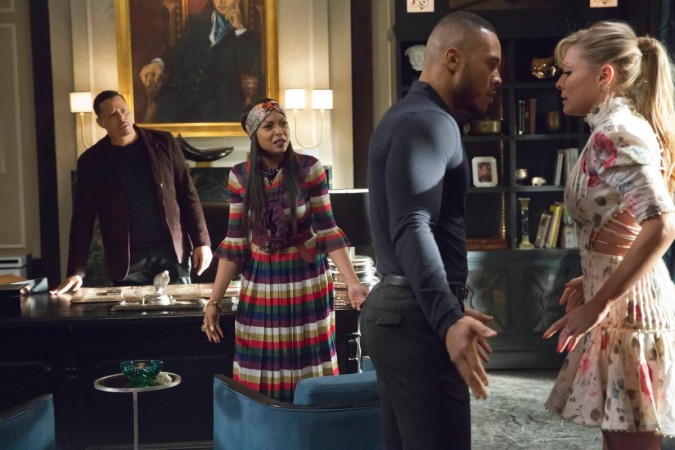 The "Empire" Season 2 finale had all the trappings of a soapy drama. There was a wedding, followed by a shocking family revelation and if this wasn't it, one of them even died in episode 18. However, which character breathed their last on the sets of FOX's hit TV series? This remains to be seen.
Fans of the show will remember that Anika (Grace Gealey) married Lucious (Terrence Howard) in Season 2 finale only to have another terrifying fight with Andre's wife, Rhonda. She finally came clean about pushing the latter down the stairs so that the Lyon family's unborn heir would die.
Anika's vehement acceptance of her crime led to a physical altercation, which finally ended with Andre shouting, "NO." It was clear that one of them had fallen off the building. But it remains to be seen who pushed whom, and if there's a chance that the said person might survive.
In an interview with TV Line, showrunner Ilene Chaiken said that whoever was pushed over the ledge would certainly be dead. She mentioned that the fall, which took place from pretty high above in a 30-storey building, would in no way allow anyone to live after that.
While Chaiken remained tight-lipped over who died in Season 2 finale, she did provide some hints. The showrunner described Anika as the one who possesses survival skills, and that the audience shouldn't underestimate her. "She's not on a level with the Lyons — or certainly with Lucious — when it comes to long-term strategy, but she's really scrappy. I wouldn't ever count her out," she added.
Although Chaiken didn't add more, she did mention that Season 3 of "Empire" would be difficult for Hakeem, the youngest of the Lyons and Anika's baby's daddy. Chaiken said Hakeem will get into trouble and will have a baby on the way.
Does this mean that it is Rhonda and not Anika, who is dead? What does this mean for Lucious and his problem with the feds? Perhaps this will be explored in detail in the upcoming season.
"Empire" Season 3 has been renewed by FOX and is rumoured to premiere in the fall of 2016.