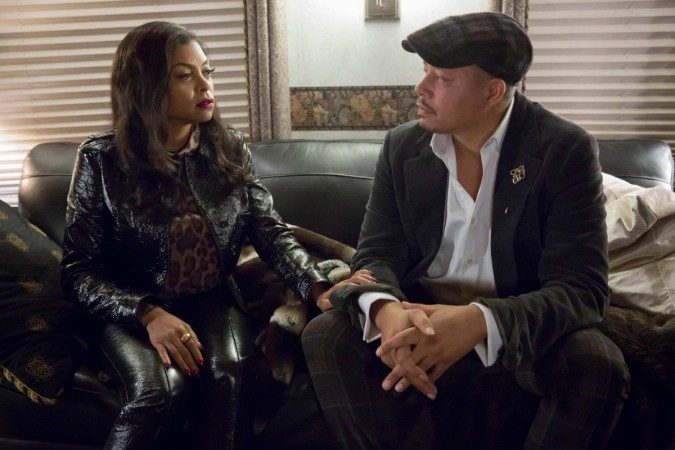 The shocks and twists in "Empire" seem endless. After Jamal's gunshot wound in the previous episode, the Lyons face the prospect of another personal tragedy in the Season 2 finale episode 18 titled "Past is a Prologue."
The events in the last and final instalment of "Empire" Season 2 are set against the backdrop of a happy occasion: Hakeem and Laura finally tie the knot. But the atmosphere is far from cheery. The first family of music have to contend with Anika's possible death.
Hakeem's baby mama gets into trouble with the feds, and in what can be described as a horrific scene, she tries to jump off a building on Laura's wedding day. In the promo for episode 18, Anika says the law enforcement officials want her to testify against Lucious.
Cookie (Taraji P Henson), Hakeem and Lucious (Terrence Howard) try to stop her from ending her life, but it remains to be seen if they are successful. It is worth mentioning that Anika is fear-stricken as she looks down, and may just change her mind.
In any case, the finale episode of "Empire" Season 2 seems to chronicle Anika's worst day. In the preview clip, Andre's wife Rhonda physically assaults her at a family dinner. Lucious, troubled by all the infighting, asks the women to stop. However, it seems the family will learn about Anika's attempted murder in episode 18.
What will Andre do? How will this affect his relationship with the rest of his family? Perhaps this will be revealed in the season finale along with Jamal's chances of survival. Lucious's son, who has shot by Freda Gatz in episode 17, was fighting for his life and it is not yet known if he will live when the season ends.
Season 2 episode 18's synopsis (via TV Guide) reads:
A life-changing experience leads Jamal to put the breaks on his music career as long as those closest to him continue the endless cycle of violence and fighting in the Season 2 finale. Meanwhile, the feds pressure Anika to testify against Lucious; and Cookie decides how best to protect her family when she meets with people from her and Lucious' past at Hakeem and Laura's wedding.
"Empire" Season 2 episode 18 airs at 9 p.m. Wednesday, May 18 on Fox.