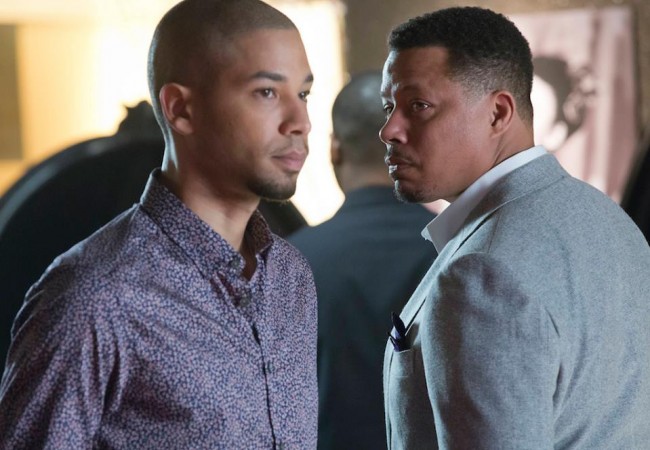 The end of "Empire" Season 2 is upon us and with it, perhaps we can expect several loose ends to be finally tied up. In the latest installment, episode 17 titled "Rise by Sin," Lucious's (Terrence Howard) past sins will come back to haunt him.
The title of episode 17 suggests that the plot will focus on Lucious's rise to power. The music mogul, who has a history of criminal and unlawful activities, will be under investigation. This is hinted at even in the promo.
The video clip includes a scene in which Jamal (Jussie Smollett) and Cookie (Taraji P. Henson) have a heated conversation. The matriarch of the Lyon family tells her son that the feds are investigating their family. But he corrects her. He appears vehement when he says that the FBI is interested only in Lucious.
The preview clip indicates that Jamal is somehow central to the FBI's investigation. Although it isn't clear what the law enforcement officials are looking for, it could be related to the murders he committed when Cookie was in prison.
In episode 16, Cookie's sister Carol revealed that she helped Lucious kill people. Later on, she was confronted by an FBI agent, who failed to mention where he works. Could this conversation land her and Lucious in trouble? Will Lucious go to jail at the end of Season 2? This remains to be seen.
Season 2 episode 17's synopsis (via TV Guide) reads:
Hakeem feels under pressure as he struggles to find a place for his fiancé, Laura, in both his family and his career; Cookie finally lets Jamal in on the truth about what happened to Freda's father, prompting him to warn Freda about his family's ulterior motives; and a sacrifice is made on behalf of Lucious.
"Empire" Season 2 episode 17 will be aired at 9 p.m. EST on Wednesday, May 11 on FOX. You can stream the past episodes via FOX Now.