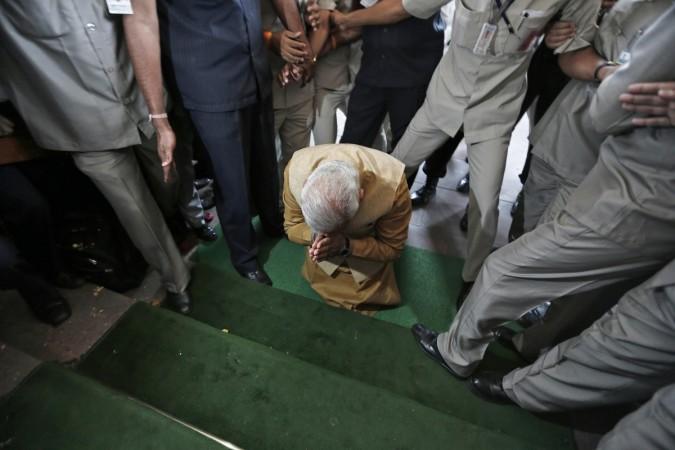 BJP Prime Minister-elect Narendra Modi met President Pranab Mukherjee at the Rashtrapati Bhavan on Tuesday to stake claim to form the next government. It has been decided that the Hindu nationalist, who secured a spectacular win in the election, will be sworn in as India's 14th Prime Minister at 6 pm on 26 May, BJP President Rajnath Singh said.
Television footages showed the president and Modi exchanging bouquets at the Rashtrapati Bhavan while Rajnath Singh, other party leaders and allies from the NDA such as Ram Vilas Paswan and Uddav Thackeray were also present at the high-profile meeting.
The meeting came hours after BJP's veteran leader L.K. Advani proposed the name of Narendra Modi for the Prime Minister's office earlier in the day. All party MPs gave their endorsements paving the way for a new government to be formed under Modi's leadership.
Online viewers appeared to be particularly touched to see Modi bowing and touching his head in respect at the steps of parliament as he arrived for the meeting of his party MPs.
#NarendraModi touches feet of #Parliament Central Hall of Parliament.. Narendra Modi Amazing picture pic.twitter.com/yxg7JmNYqW
— Ravi Dubey IBN7 (@ravipratapdubey) May 20, 2014
As Modi arrived, he was also seen touching Advani's feet before they embraced each other.
"I propose Mr Modi's name as the leader of the BJP's parliamentary party," said Advani in the meeting and soon the proposal was seconded by many others including Venkaiah Naidu, who described Modi as the "darling of the masses," MM Joshi, Sushma Swaraj and Arun Jaitley.
Rajnath Singh, the BJP president, said the occasion was historic since an opposition party had, for the first time, won a majority on its own in India's 543-seat Lok Sabha – the more powerful lower house of parliament.
The BJP got 282 seats, far more than what most analysts predicted, and much more than the 'mission 272' mark that was envisioned to win a majority. Congress party was left red-faced with just 44 seats.
In his speech, Modi said the people had given him a great responsibility to meet their aspiration and fulfil their hopes. Modi broke down later and fought tears as he thanked his party colleagues for their support.