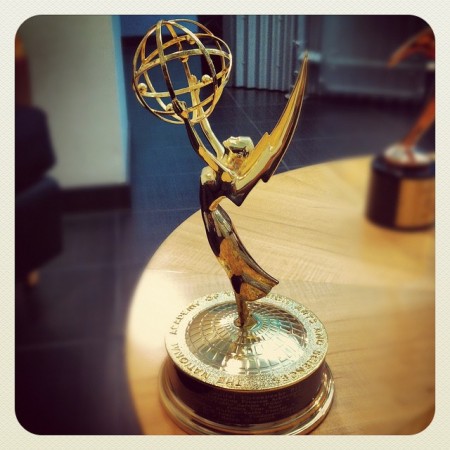 As the most awaited TV awards show, the 65th Primetime Emmy Awards, came to an end Sunday evening, it was party time for all the stars, even for those who didn't manage to get a 'golden statuette'.
After parties are more fun than the actual event. So, how much fun did the celebs have? A lot! Literally.
The stars first headed to the Governors ball to get their names engraved on the awards before sneaking away to parties hosted by several rival networks. AMC, HBO and Netflix hosted lavish soirees where all the stars had a ball.
Here are a few highlights of some of the after parties:
- Sofia Vergara, the 41-year-old actress of 'Modern Family' was in a real good mood as her series won the best 'Comedy Series'. She was spotted doing the Miley Cyrus' dance move popularly called Twerking at HBO's official after party.
- Though Bryan Cranston of Breaking Bad didn't win this time, everybody wanted a piece of the actor. Modern Family's Nolan Gould decided to get autographs of the whole Breaking Bad cast.
- Derek Hough, winner of the Outstanding Choreography Award got into the groove in a hilarious dance off with Breaking Bad's Dean Norris at AMC's after party.
- There was a lot of PDA for 'American Horror Story 'star Evan Peters and his girlfriend, Emma Roberts, niece of Julia Roberts and star of 'We are The Millers'.
- Mick Jagger, the Rolling Stones frontman and great-grandfather-to-be was there too! He partied late into the wee hours of the night.
- Vince Gilligan, creator of 'Breaking Bad' only wanted to know how his speech went. He went about asking everybody "Was it good? I really cannot remember."
- John Hamm and Amy Poehler decided to celebrate 'Not Winning Emmys' and threw a party for all those who hadn't snagged an award. Apparently, their party was the best one to be at.
Check out some of the most happening pictures of the Emmy After Parties, here.
Though the 2013 Emmy Awards has been largely criticized for being boring and not up to the mark, it claimed 17.6 million viewers, a figure up 32 percent from 2012 and the largest since 2005, reports USA Today.