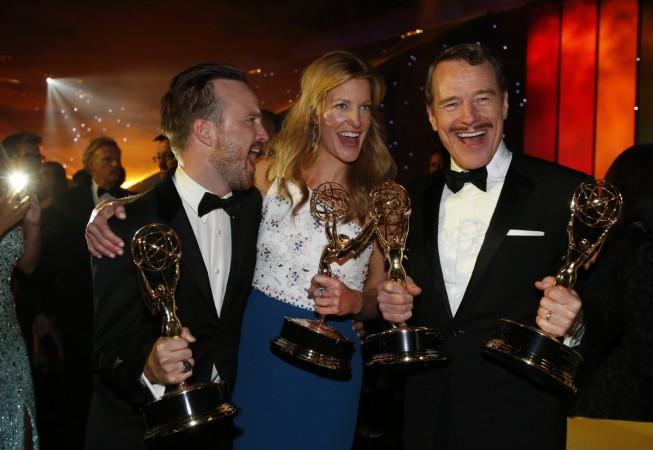 "Breaking Bad" might have gone from television screens, but the drama about a meth cooking chemistry teacher managed to bag a total of five Emmy wins during Monday's televised award function.
The AMC drama was nominated for 13 gongs at the 66th Annual Primetime Emmy Awards, and went out on a high note bagging the awards for Outstanding Drama Series, Lead Actor in a Drama, Supporting Actor in a Drama, Supporting Actress in a Drama, and Outstanding Writing for a Drama.
Bryan Cranston, who bagged the lead actor in a drama award for essaying the role of Walter White, thanked his co-stars during his acceptance speech. "My dear friend Aaron Paul, I love you so much. We were there all the way together. To Anna Gunn, my TV wife extraordinare. I love you, especially our scenes in bed," said Cranston.
Meanwhile, an emotional Paul thanked his partner in crime, Cranston, for being an inspiration, and the show's creator Vince Gilligan for offering him the role of Jesse Pinkman.
"Oh wow. I feel like I'm gonna throw up. Can we please have another round of applause for [his fellow nominees]. I know we speak for everyone in the room, in saying we are grateful you found this gift inside of you guys," said Paul.
"Breaking Bad has changed my life and it is all because of one man: Vince Gilligan. Thank you for believing in me and letting me play this guy.
"Bryan there's not a single day that goes by that I do not miss running to work so I can work opposite of you. I have learned so much both on and off set."
This is not the AMC drama series' first Emmy win. It also won the best drama award last year, and a number of people had predicted "Breaking Bad" sweeping this year's Emmys too.
Interestingly, the victories of a number of shows were unsurprising, as most of them had bagged awards the previous years too. For instance, Monday's award function saw "The Big Bang Theory's" Jim Parsons winning his fourth best comedy actor award; Julia Louis-Dreyfus taking home her third best comedy actress for "Veep," and Julianna Margulies of "The Good Wife" winning her second best actress award. ABC's "Modern Family" took home its fifth best comedy series award this year.