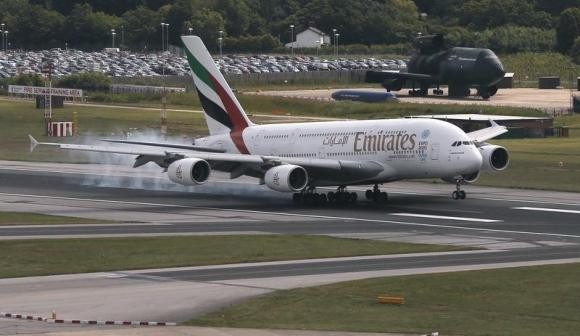 Following reports that the Islamic State of Iraq and Syria (ISIS) militants are in possession of surface-to-air missiles, Emirates Airlines, one of the world's biggest air carriers, has announced its decision to restrict aircraft through the Iraqi airspace.
Tim Clark, president of Emirates Airlines, told The Times that the airline has decided to stop flying over Iraq, over fears of ISIS possessing surface-to-air missiles.
Several international air carriers are now expected to follow suit as concerns have been high after the Malaysia Airlines MH17 flight, carrying 298 passengers, got shot down by Russia-based Ukrainian rebels on 17 July.
"The horrors that this created was a kick in the solar plexus for all of us," Clark told the UK daily. "Nevertheless having got through it we must take stock and deal with it."
It is reported that several aviation experts and airline chiefs are expected to come together to discuss alternative plans. The discussions will also focus on an action plan for deciding air corridors through the conflicted regions.
TAKBEER RT @Dawla_NewsMedia ISIS mujahideen just got their first SAM (Surface-to-Air Missile - can shoot down planes) pic.twitter.com/AaayUUa898

— Anti Zion ®™ (@Allama_Iqbal_) July 18, 2014
The report also suggests that jets flying over Iraq could now be diverted across Saudi Arabia and the Red Sea, over Cairo and finally into European airspace. The re-routing is expected to add at least over 45 minutes of additional travel time. There are plans to work on routes through Iran as well.
The concern over the safety of flights in Syria and Iraq air corridors has been high as it is now believed that the ISIS militants, with surface-to-air missiles, have the capability to bring down planes flying at an altitude of over 30,000 ft.
Meanwhile, some airlines have still been using the air corridors in Syria and Iraq, despite concerns over safety.
According to the Daily Mail, British Airways and Qatar Airlines have been flying directly over Mosul, which is an ISIS stronghold. Mosul is reportedly a very busy air route.
the Islamic state (ISIS) destroys an aircraft around Koers military airport Aleppo Syria pic.twitter.com/68EuWxdnHr — PKK-YPG Don't FOLLOW (@Dawla_NewsMedia) May 25, 2014