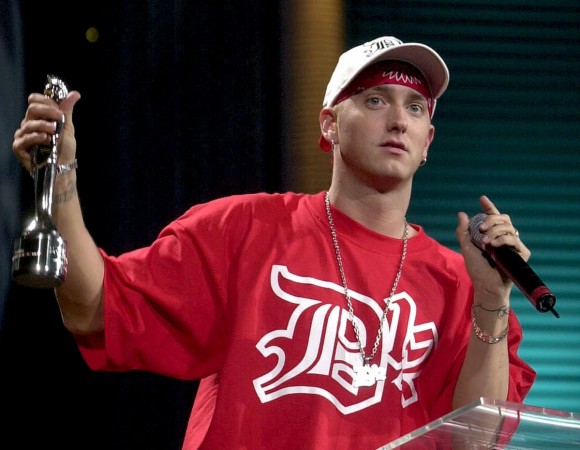 Are you ready to feel old?
Here you go, Eminem's daughter, Hailie Mathers, recently celebrated her 21st birthday. Yes, 21! Daddy's little girl is not little anymore and neither are we. The singer's daughter touched the milestone in December but the news about her all grown up went viral recently. The celebrations were grand and the rapper's fans went crazy when they saw the beautiful daughter partying her way to 21.
Also Read: Want a smokin' body like Khloe & Kourtney? Check out the Kardashians' hot workout routine [VIDEO]
Hallie's birthday pictures, as soon as it hit the internet, went viral. The hot 21-year-old flaunted her curves in a skintight maroon red dress that showed more than her figure. Posing with her date tall and sexy, Hallie went on to give the world a good look at her long legs and her under boob.
She shared the picture from her birthday date night captioned: "Couldn't have asked for a better 21st birthday celebration (or a better guy to have by my side)" as she side hugged her boyfriend and sported a glass of champagne flutes in hand.
While we are in love with the sexy daughter, the choice of dress may have not gone down well with father, Eminem. A source close to the singer told Hollywood Life, "Hailie is a very sexy girl, and that's definitely hard on him."
Ouch!
Though the singer is known for his scandalizing lyrics, Eminem is a very protective dad. "He wants to protect her, so he gets nervous when she goes out in short dresses and heels. He likes her in sweatpants and a pony tail." Awww!
Like most fathers, the 8-mile singer wants his little girl to not grow up. For those of you who follow Eminem might remember that the now 21-year-old girl appeared in her daddy's 1999 music video for "Mockingjay." The gossip website reports that Hailie is a grounded and down to earth person. She is just like you and me, and her Instagram pictures prove so. Have a look!