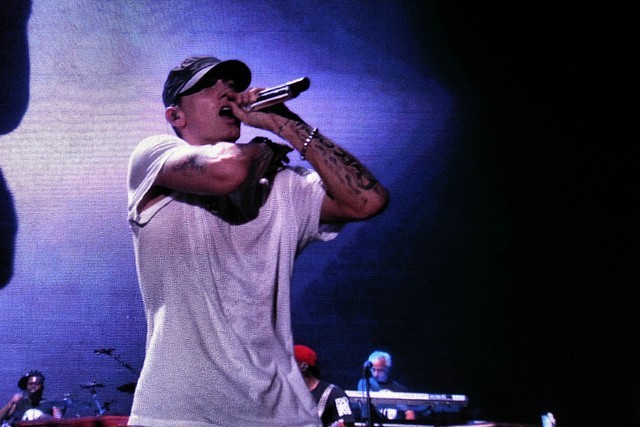 Eminem has released his latest single "Rap God" from his upcoming album "Marshall Mathers LP 2", which is slated for a November 5 release.
The first single "Berzerk" has already attained Platinum status after selling more than 1 million copies, according to several news reports.
In "Rap God", Eminem goes on about how he feels like a rap deity and describes himself as a product of rapstars like Rakim and Tupac, N.W.A. and Lakim Shabazz. The song mentions Monica Lewinsky, Marvel Comics, Ray J and superhero Thor too, reports Rolling Stone.
The chorus goes:
"I'm beginning to feel like a rap god (rap god)/ All the people from the front to the back, nod (back nod)."
MTV writes about the song:
"Rap God" is strikingly different from previous MMLP2 releases "Berzerk" and "Survival," as it seems that Marshall's focus on this one is simply to have the most expertly laid verses, adding yet another wrinkle to his November 5 album.
Reverb.com opined:
Driven by a piano sample and a siren-sounding synth, Eminem is relentless on "Rap God" in his attempt to assert the claim in the title.
Check out the song's audio below:
This is the third single released from Eminem's forthcoming album. While "Berzerk" went on sale in August, "Survival" released at iTunes earlier in October. Check out both the tracks here.
"Bezerk" has already sold more than 1.1 million copies since its release and has sold 1,15,000 this week alone, reports HotNewHipHop.com.
Eminem's new album is full of surprises with stars like Nate Ruess, frontman of 'Fun' and Kendrick Lamar each lending voices to the 'Rap God's' tracks. Rihanna and Skylar Grey have also teamed up with Eminem for a track each.
Below is the entire track list of "Marshall Mathers LP 2" (Eminem Official Website)
1. Bad Guy
2. Parking Lot (Skit)
3. Rhyme Or Reason
4. So Much Better
5. Survival
6. Legacy
7. Asshole Ft. Skylar Grey
8. Berzerk
9. Rap God
10. Brainless
11. Stronger Than I Was
12. The Monster Ft. Rihanna
13. So Far...
14. Love Game Ft. Kendrick Lamar
15. Headlights Ft. Nate Ruess
16. Evil Twin