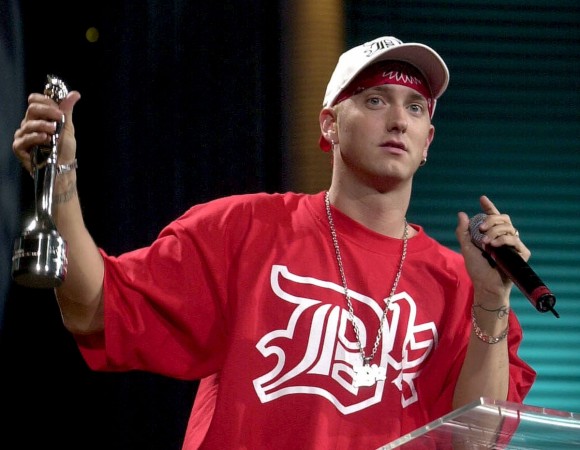 Eminem is once again using his old antics of targeting female celebrities for shock value as a ploy to generate interest in his work, but this time not many fans are happy, as his recent lyrics talk about assault and rape.
A number of music lovers have termed his lyrics, which talk about raping Iggy Azalea, 24, and punching Lana Del Rey, 29, pathetic and disrespectful to women.
In a disturbing one-minute preview of "Vegas," a song believed to be from his upcoming album, Eminem raps about violence against the Australian singer, rapping: "So what's it gon' be? Put that s--- away Iggy/You don't wanna blow that rape whistle on me/Scream!/I love it/'Fore I get lost with the gettin' off."
This comes just a few days after he rapped about punching Del Rey. "Play nice, bitch, I punch Lana Del Rey right/In the face twice like Ray Rice in broad daylight," he rapped in a new video to promote his upcoming Shady XV compilation.
But Azalea isn't taking it lying low. "im bored of the old men threatening young women as entertainment trend and much more interested in the young women getting $ trend. zzzz," she tweeted on Friday morning.
"its especially akward because my 14 year old brother is the biggest eminem fan and now the artist he admired says he wants to rape me. nice!" she added.
Eminem's previous female targets included Amy Winehouse, Mariah Carey, Britney Spears, Christina Aguilera, Kim Kardashian, and even his mother, who successfully sued for defamation.
Meanwhile, fans of Azalea have also slammed Eminem's lyrics, with many noting that he should learn to treat woman with respect.
Check out some fan reactions below.
"Eminem saying he wants to rape Iggy is straight out disrespectful and pathetic." -- KimKanyeKimye ‏@KimKanyeKimyeFC
"So eminem threatened to rape iggy azalea in his new song and I know you all hate her but I still think its disgusting." -- Pøkèmøñ Māśtēr ‏@LetM3Dr0wn
"Why are people defending Eminem for threatening to rape iggy like you might not like her but damn get your priorities straight." -- ¥ ‏@ritazevonne
"A grown ass man issuing rape threats to women. That is NOT hip hop. Wack as fuck." -- Angry Brown Man ‏@AListRap