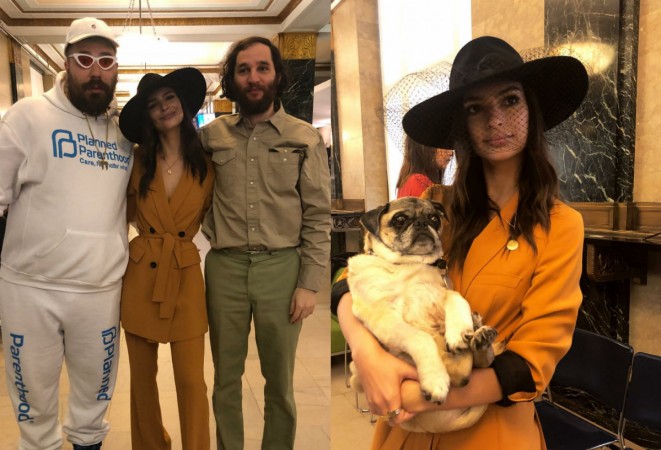 Surprise, surprise! Emily Ratajkowski stunned her fans when she announced that she was married now. The 26-year-old took to Instagram to share the good news. Instead of a lavish Hollywood style wedding, the model opted for a low-key courthouse ceremony.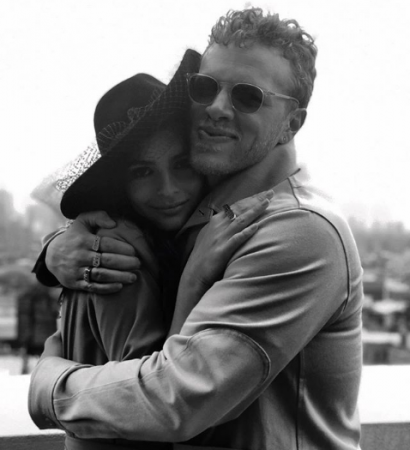 The actress, who was recently in news for breaking up with music producer Jeff Magid, married film producer Sebastian Bear-McClard. His IMDb page associates his name with movies like Broken Flowers and Heaven Knows What. He was also the producer of Robert Pattinson's Good Time.
Walking into New York City Hall, the couple exchange their vows on February 23 amidst friends, as seen in the Instagram pictures.
There was white in the wedding but it was not draped on Emily. Instead, the Gone Girl star got married in a mustard-colored Zara pantsuit. She accessorised the $119 long jacket with a belt around her waist and slipped into a matching flared $69.90 trousers. She completed the look with a black hat and a French net veil over her face.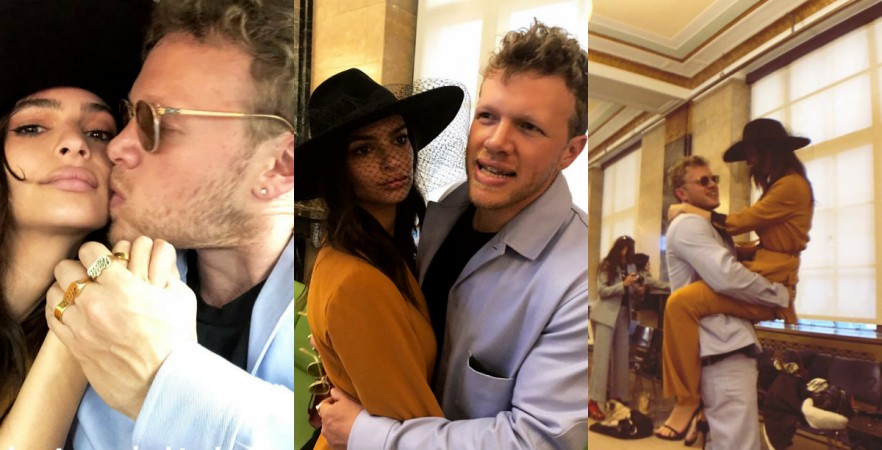 As for the rings, the couple chose to stick to a simple set of gold bands. Emily chose to leave her huge diamond engagement ring at home for the ceremony but her husband did not shy away from flaunting a set of rings that read – EM and RATA.
"I got married today," Ratajowski wrote on a selfie with her new husband where the rings are seen clearly.
Among the many guests, meme king The Fat Jew was also present as a witness. The internet star, whose real name is Josh Otrovsky is the groom's best friend. The duo was seen posing on the red carpet during a Tribeca Film Festival event back in 2014.
Emily and Sebastian turned heads on Valentine's Day when they were spotted engaging in PDA outside of Los Angeles eatery La Poubelle, Daily Mail reports. It was rumored that the couple moved in together a couple of weeks ago.