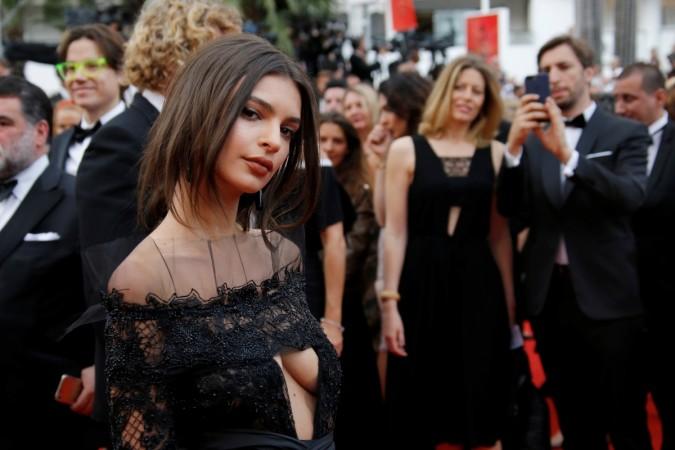 Emily Ratajkowski is unstoppable. Days after she shared nude photos from her LOVE Magazine photoshoot, the diva has again taken to Instagram to tease fans with her luscious booty.
Wearing a white thong and a bikini top, the 26-year-old model put her sensual side on display. Turning her back towards the camera, Emily confidently put her derriere on display in the picture.
Also Read: Emily Ratajkowski strips down for a hot photo-shoot
Posting not one but two pictures to show off her toned body, the diva flaunted her curvy body to give fans an eye-full. Standing against a sandy background, the actress let her hair down, covering one half of her face as she let the camera focus on her bosoms.
Emily kept the beach look simple and sexy by wearing jewellery that limited to lopped golden earrings, choker and a gold medallion necklace. She let a tiny chain fall between her busty assets but did not let it talk any attention away from her curves and toned abs. She opted for bronze based make-up to highlight her skin tone and added a touch of gloss to her lips.
Unlike her recent nude picture, Emily looks less skinny. Fans sprung to compliment the diva. While some called her gorgeous and beautiful, others termed her beauty in paradise.
A few hours after the scandalous pictures, Emily posed along the pool side in a pair of chic crop and white pants. Sporting the trendy round framed sun glasses, the brunette held a cream colour hand bag in her hand.
While her bikini highlighted her assets, the grey crop top highlighted her toned abs. Emily has never shied away from stripping down for the camera. The model became famous after featuring naked in the video of Blurred Lines and has maintained her fabulous slender figure and loves teasing fans with some raunchy photos.