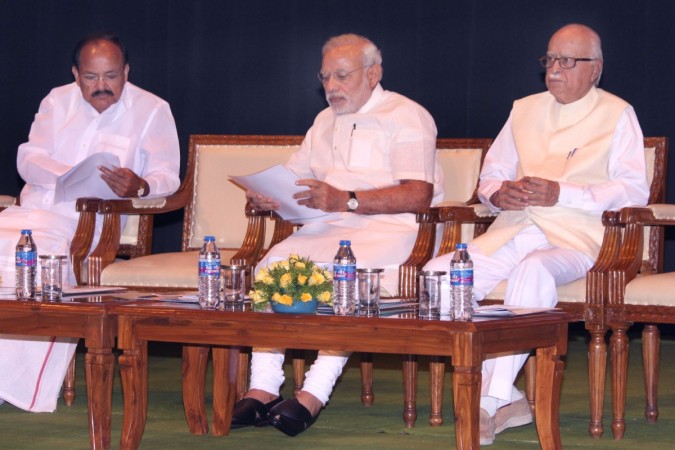 The chief ministers of Delhi and Bihar on Thursday supported veteran BJP leader LK Advani's concern that India may once again go through the Emergency-like situation witnessed four decades ago.
Talking to The Indian Express, Advani said that nothing has as of yet assured him that civil liberties will not be curbed in future like it happened in 1975, when the then prime minister Indira Gandhi had the then President declare the Emergency.
Supporting the veteran leader's concern, CM Arvind Kejriwal said that it had already started in Delhi, while his Bihar counterpart Nitish Kumar believed that his state has been facing it on daily basis.
"Advaniji is correct in saying that emergency can't be ruled out. Is Delhi their first experiment?" Kejriwal tweeted.
"Advani is among the senior-most leaders of BJP and his concerns should be considered seriously. As far as Emergency-like situation is concerned, we are facing it here on a daily basis," PTI quoted Nitish as saying.
Where has Advani's concern originated?
Although Advani did not mention who can really lead to another Emergency-like situation, he clearly stated the reasons that might become a source for the forces to curb civil liberties. In his views, commitment to "democracy" and the aspects related to it lacks in today's India.
"A commitment to democracy and to all other aspects related to democracy is lacking," Advani told the Indian Express.
"I think there isn't adequate awareness about, and commitment to, civil liberties, and the freedom of the press... From what I can see, the number of people in this generation who are committed to democracy and civil liberties is going down," he said.
Advani believes that India is in a better state than other Asian-African countries, thus, it can resist anything like the Emergency. But the forces in India, at present, are posing even a stronger threat to democracy.
"As compared to several other Asian-African countries, India is certainly in a better position to resist something like the Emergency. But that cannot be any reason for us to be satisfied. At the present point of time, the forces that can crush democracy, notwithstanding the constitutional and legal safeguards, are stronger," he said.
One of his several concerns for another Emergency-like situation lies in India's polity and leadership.
"I do not see any sign in our polity that assures me any outstanding aspect of leadership," Advani said, adding that it is not that political leadership is not mature enough but he does not have the confidence.
"Today, I do not say that the political leadership is not mature. But kamiyon ke karan, vishwas nahin hota (I don't have faith because of its weaknesses). I don't have the confidence that it (Emergency) cannot happen again," he said.
Advani pointed out the lack of constitutional and law safeguards as other reasons for his concern. He said the both were stronger in 1975 than now, but still Emergency happened.
"The legal structural safeguards in the Constitution and the law were in place even earlier — yet the Emergency happened. There aren't enough safeguards in India in 2015," he said.
The factors that may avoid it from happening again
Advani believes the political failure of the party that implemented the Emergency may serve as a lesson for others to not repeat it.
"The aftermath of the Emergency having been an election in which the party that imposed the Emergency lost very badly would always be a deterrent for future rulers who think of repeating what was done in the 1970s. This is a positive factor," Advani said.
However, the factor which Advani believes will have a definite impact is judiciary. He said that judiciary can keep the democracy intact in the country.
"Of the various institutions that are to be held responsible for a well functioning democracy in India today, the judiciary is more responsible than the others," he said.