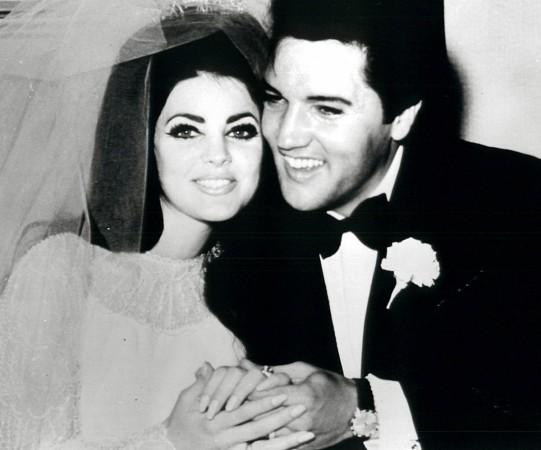 Elvis Presley, the king of Rock and Roll, was an enigma when he was alive and still remains one almost four decades after his death. Elvis was found dead in his bathroom on Aug. 16, 1977. His death was attributed to drug abuse.
However, a longstanding theory since his death has been that Elvis faked his own death to escape fame. Many fans have noted alleged inconsistencies in his death certificate, while many reports have claimed that a wax dummy was buried in the coffin and not actually Elvis' body.
Over the years many alleged sightings of Presley have been reported, the latest one being on June 1, 2016. A video clip from a park at Graceland in the United States shows an elderly man walking towards the camera and raises two fingers of his left hand.
Youtube user The Shadow, who has uploaded the video, explains that the man, who he claims is Elvis, is using the Charldean numerological symbol of "v," which translates to 9, the proof of life, to convey to his most loyal fans that he is, in fact, alive. To the cynics who ask why he Elvis would reveal himself after so many years, The Shadow says, "Look this was a fluke...I don't think he expected us to be watching. Or maybe he just took a chance because he doesn't usually come so close to the cam."
Elvis' fans are divided over this new clip. While some are adamant that there is no way it could be the legendary singer, other feel everything about his demeanour screams Elvis. Here are some comments fans have left on the video:
this is Elvis. look at his walk, look at the crooked left index finger. it's him." [sic]
Looks way too young if recently taken. Elvis would have been approaching 90 if he were alive. "[sic]
I've been an Elvis fan since I was 2,when I first watched G.I Blues I practically know everything about,even my late Father seen him in Germany 1958,when he was stationed over there in The Army.There is more to Elvis than you think;yes he is a very good kind person,who would protect his family and friends and would go to extreme lengths to do so,but one thing about Elvis is his infamous walk;Elvis was Pigeon toed(right foot)and when he walked on stage it noticed,he walked with a wide gait and stood upright(straight) with shoulders slightly back and also the way his arms swung whilst walking,not at the side of him as such,but slightly diagonally.....after looking at this footage;I am 100% CONVINCE,this is Elvis....he had many reasons for doing what he done and he done it to protect his family;he is still well protected as he was way back,but there are times,he still needs time out..Elvis wanted out of the limelight,he just wanted his life back,especially after him and Pricilla's divorce in 1973...his life was never the same,but he done many things in the name of justice afterwards,which caught up with him....The contract that was put on him,ran out a long time ago and thise involved are long gone....Elvis hasn't committed any crime by law,even his Life Insurance Policey was never cashed in...people may speculate and say rubbish,but there is DNA evidence and Voice analysis and Handwriting proof to prove he is still alive...The government won't investigate or blow the cover on him,because they're the ones who protect him...final word is"check the spelling on the stone"....his midfle name was puposely spelt "Aron",due to Elvis's twin brother Jessie"Garon" being stillborn....food for thought.....check photos of Elvis's army kit bag and name badge on uniform,Humes High Records..the list is long..the extra A added on his alledged grave is there for a reason and for the purpose of his fans!" [sic]
Hi all...Just watched the video. A few things...first, the gentleman in the video is not 81 years old. He's obviously younger by a long shot. Second, I just did the Graceland VIP Tour a month ago, and the tour guide told us that Elvis' younger cousin is the groundskeeper, so if that is in fact the head groundskeeper, he is a relative of Elvis, but not Elvis. I wish as much as the next person it was him, but it is not. Elvis is alive in the hearts of his fans, and that is enough for me." [sic]
Watch the video posted by The Shadow below and see whom you agree with.