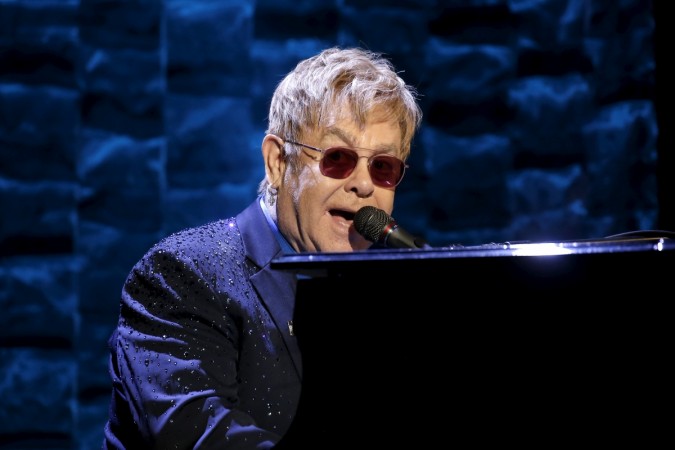 Sir Elton Hercules John will celebrate his 69th birthday Friday, March 25, 2016. The name needs no introduction — with over 50 Top 40 hits, and having sold more than 300 million records in his five-decade career, Sir John is one of the best-selling music artistes in the world.
The English singer and songwriter performed at a sold-out Van Andel Arena recently, and the recital and his extended piano solos at the concert were as impressive as ever. Even at this point in his career, Sir John never fails to give his fans what they best deserve.
On his birthday, we have compiled a list of some interesting facts about this legendary singer and the best songs to celebrate the day.
- Sir John was born as Reginald Kenneth Dwight. He paid tribute to Blues vocalist Long John Baldry and saxophonist Elton Dean, after he named himself after them. His stage name became his legal name in 1967.
- He taught himself how to play a piano. At the age of three he astonished his family by sitting at the piano and playing "The Skater's Waltz" by ear.
- At the age of 11 he was awarded a scholarship as a Junior Exhibitor at the Royal Academy of Music and he attended the Academy on Saturday mornings for the next four years.
- As a child, Sir John didn't need glasses, but wore them anyway to look like Buddy Holly. They damaged his eyes so much that he was soon forced to wear them.
- At one point, he was responsible for 3 per cent of all records sold on the planet.
- Sir John has an enormous wardrobe which comprises regency wigs and Donald Duck costumes, tiaras and corsets, boaters and braces, and loafers and really naff glasses.
- He originally wrote "Candle in the Wind" for Marilyn Monroe, but reworked on it as a tribute to the late Princess Diana.
Here's a list of some of the best Elton John songs you need to listen to on his birthday.
- "Your Song"
- "Sacrifice"
- "Rocket Man"
- "Candle in The Wind"
- "Can You Feel the Love Tonight"
- "Crocodile Rock"
- "Guess That's Why They Call It the Blues"
- "Don't Go Breaking My Heart"
- "Sorry Seems to be the Hardest Word"
- "Something About the Way You look Tonight"