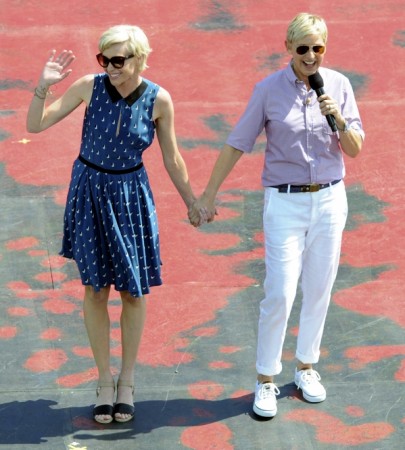 Ellen DeGeneras and Portia de Rossi recently celebrated their sixth wedding anniversary. The couple, who have been battling divorce rumours for months now, are very much together and even celebrated their special day with skywriting.
"Look what my wife did for our wedding anniversary," DeGeneres tweeted on Monday. The talk show host also shared a photo with her fans, where she and Rossi could be seen standing beneath a giant "six" written in the sky.
DeGeneras and Rossi have repeatedly celebrated their love with skywriting since they got married. They have managed to keep things good under the hood despite rumours of marital discord.
"They've had their ups and downs," a source told People recently. "Portia has been very outspoken about previous issues, like her eating disorder, and she's good at seeking help when she needs to. They've worked out difficulties in the past, and no doubt they're trying to work out any problems right now."
DeGeneras has also debunked divorce rumours on many occasions.
"One tabloid said Portia's leaving me because she doesn't like moving a lot," she told the magazine earlier this year, adding, "Which is funny because she is overseeing the construction of our new house and loving it."
There have been a slew of tabloid reports claiming that their relationship is "hanging by thread". There were also reports doing the rounds that the couple were spotted going on dates many times and have also bought a new house.
DeGeneras met Rossi after ending her three-year relationship with Alexandra Hedison, who went on to marry Jodie Foster.
The 56-year-old Oscar host loves her wife deeply, according to reports.
"I love her so much it kills me,' but revealed they don't plan to have children because the responsibility is too big. We'd probably be great parents. But it's a human being and unless you think you have excellent skills and have a drive or yearning in you to do that, the amount of work that that is and responsibility - I wouldn't want to screw them up!" Daily Mail qouted DeGeneras as saying in an interview.
Rossi would be next seen in "Scandal" season 4.