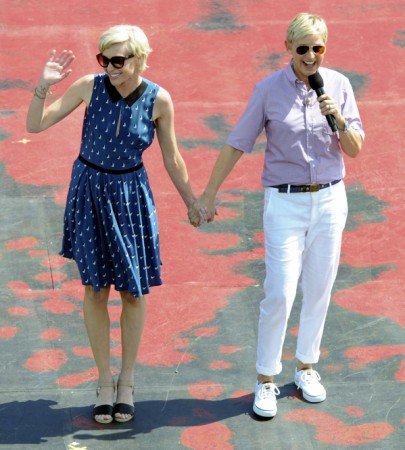 Ellen Degeneras and Protia De Rossi are all set to leave behind their troubled relationship and start anew by moving into a new house. The buzz has it that the couple has brought a new luxury condo right in the middle of Beverly Hills for a renewed spirit.
According to reports, Degeneras and Rossi were going through marriage trouble, alleging that the latter's drinking habit was the cause for the problem between the couple. However, things seem to have fallen into place after Rossi checked into rehab and got a role in "Scandal".
"Ellen and Portia just purchased an entire floor of a luxury building in Beverly Hills," a source told Radar Online. "It is very centrally located, right in the heart of everything that they do in Hollywood. They still have the land and the space they love in Santa Barbara, but this spot offers the convenience that they need."
The new abode of the couple has full service concierge, 24-hour staff, a fitness center and pool, according to Trulia.
"It's a good sign that they are going to stay together," a source told the Website. "Ellen and Portia have always loved working on a home project together!"
The new house is the second one for the couple. They brought a property in Los Angeles for $39,888,000 in January but they sold it on July 3 for $49,500,000, according to reports.
It is also being said that earlier this month Rossi and Degeneras flipped their former home by the name of Brody House but it led to problems between them.
"At times Portia felt overwhelmed at all that goes into redoing a house and moving to another, no matter how lucrative it may be," a source told People. "She felt like she was doing everything herself and needed some downtime."
It was also said that the duo fought over Degeneras' controlling nature.
"They got into an ugly fight," a source said of Ellen DeGeneres and Portia de Rossi to Intouch Weekly. "Portia hadn't been happy for a while and was drinking and isolating [herself], and Ellen confronted her. Portia lost it and blamed Ellen for driving her to drink because of her controlling ways and said she wasn't in love with her anymore. Ellen was crushed and screamed at Portia to get out."
It may be recalled that Degeneras and Rossi had refuted their divorce rumors several times in the past, and they are now going to put an end to all the speculations by moving in together into a new house.