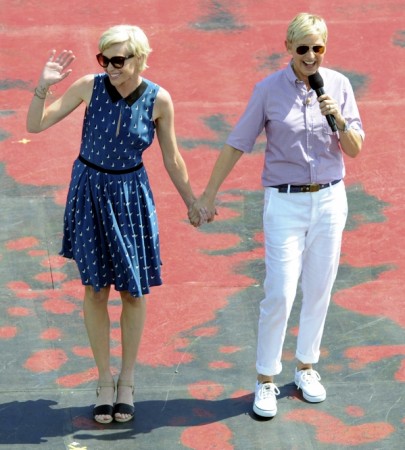 In the last one year, Ellen DeGeneres and Portia de Rossi have had several ups and downs. The couple has been facing a difficult time in their marriage, with many speculating that they might be headed for divorce.
However, sources reveal that the couple has mended their differences and is now preparing to renew their wedding vows. The two are reportedly planning for a close family function to celebrate their sixth wedding anniversary in August.
The couple's relationship recently hit rock-bottom after de Rossi checked into a Malibu rehab. It was reported that DeGeneres and de Rossi had a major fight during which the TV hostess asked the latter to get out of the house.
At the Malibu rehab center, de Rossi reportedly spent 30 days. However, DeGeneres visited her regularly and since then, the couple has patched up.
The couple now wants to take things as it comes. "They have had their ups and downs," a source told People. The couple had their differences in the past and they want to work it out between themselves, the source added.
On de Rossi's recent rehab stint, the source said that she is an outspoken person and is quite open about seeking help, if she needs it.
Speculations claim that it was after kicking out de Rossi that DeGeneres decided to sell off the iconic Brody House, TMZ reported.
The American TV hostess has now bought the entire floor of a condo in Beverly West and de Rossi was recently seen entering the new house, escorted by a beaming DeGeneres.
The report claims that the couple now wants to focus on their future and has started planning for their sixth wedding anniversary. The two are known for their legendary parties and it is rumored that for the anniversary celebrations, they would renew their wedding vows once again, before friends and family in August.
DeGeneres has been dating de Rossi since 2004, before the two decided to get married in May 2008. The couple got married on 16 August 2008 at their Beverly Hills home in a closed ceremony, comprising of a total of 19 guests including their mothers.