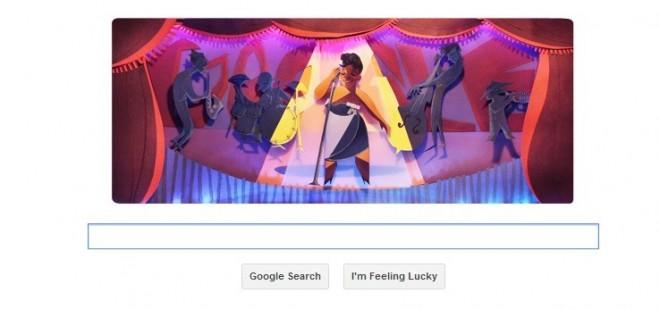 Search engine giant Google on Thursday has come up with a new doodle commemorating American jazz singer Ella Fitzgerald's 96th birth anniversary.
Google's homepage showed a doodle of singer performing with a band on stage. The 'Google' word can be seen in the background.
Fitzgerald, known as 'First Lady of Song', 'Queen of Jazz' and 'Lady Ella', was famous for her wide-ranging vocals. The songstress, a winner of 13 Grammy awards, was the interpreter of the Great American Songbook.
Born on 25 April, 1917, in Virginia, Fitzgerald began her singing career at the age of 17. She went on to join Webb's Orchestra, a band led by drummer Chick Webb.
She gave out several hits like "Love and Kisses and "If You Can't Sing It) You'll Have to Swing It (Mr. Paganini)". She also recorded the widely popular nursery rhyme "A-Tisket, A-Tasket".
The band was later renamed 'Ella and her Famous Orchestra' after the demise of Chick Webb in 1939.
Fitzgerald sang close to 150 songs with the band before breaking up in 1942. She went solo and was signed by music label Decca where she produced numerous hits with other bigwigs.
Fitzgerald had her share of fleeting movie roles in Pete Kelly's "Blues", "St. Louis Blues" (1958), "Let No Man Write My Epitaph" (1960) and later in the 1980s television drama "The White Shadow".
Her singing career that spanned 59 years saw the sale of 40 million copies of her 70 albums.
Among the honours she was bestowed were the National Medal of Arts 1987 and Presidential Medal of Freedom in 1992.
The Jazz Queen died at the age of 79 in her Beverly Hills mansion on 15 June, 1996.