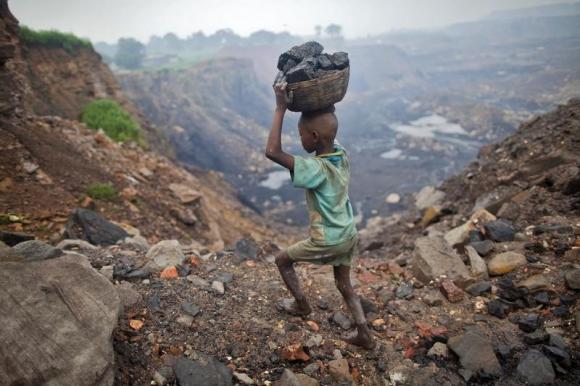 The Central Electricity Authority data revealed that most of the Indian thermal power plants are left with a week's raw material stock. With possibility of increased import of coal, India is likely to witness continuous power tariff hike.
Out of the 100 coal-run power-generating stations, 46 will run out of fuel stock in less than seven days, according to news reports. The major power generating company NTPC is alone facing shortage of fuel in six of its stations.
They together hold a capacity of generating 16,840 megawatts electricity that constitutes to 15 percent of the total power produced in India through coal-based power plants.
"With the ensuing monsoon, it will become more difficult to replenish the coal stocks and in case of even a small disruption, the total power generation at these stations will be adversely affected," Reuters quoted NTPC Chairman Arup Roy Choudhury.
Out of the six power plants, three have stocks left for less than one day, while the fuel in the rest wouldn't last for more than two days.
Possibility to Witness Significant Increase in Domestic Coal Production?
India gets more than half of its electricity from coal-based thermal power stations, which receives most of their raw materials from home-production. However, India is reportedly facing shortage in their coal production target since the past six years.
In 2013, Coal India Limited (CIL) targeted produced 462 million tonnes coal against targeted 482 million tonnes.
If Indian government do not come up with a contingency plan to increase the domestic coal production, it may have to increase the import of coal. However, the Fitch agency statement published by Reuters suggests that it will be nearly impossible for India to revive its domestic coal production.
Fitch indicates that the domestic production of coal is comparatively much lower than the demands at power sectors. Consequently, it will lead to continuous shortage of fuel at the power stations.
"India's total coal based power capacity at April 2014 was around 140 gigawatts (GW). This is expected to increase by around 15GW per year, which would require an additional 60 million tonnes of coal," according the statement.
Considering the present situation—lack of fuel & poor production, — India can only rely on imports. Coal import in India has already increased by 17.9 percent to 171 million tonnes in FY14 from 145 million tonnes in FY13.
Coal Price Pooling
The increased coal import would directly affect the production cost leading to power tariff hike at a much higher rate. To deal with which, Indian government has proposed coal price pooling to CIL, which will ask the producers to share the cost of imports for a limited quantity of coal supply.
However, this is not likely to benefit electricity consumers, as it would reportedly increase the cost of electricity by 13 paise per unit. And as the demand for import would continue to rise, India would witness simultaneous power tariff hike.