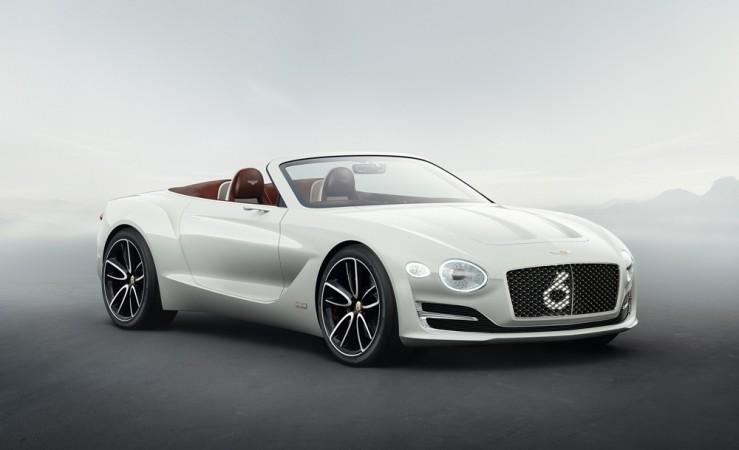 If a person says electric cars are boring to look at, you cannot argue with him. Many of the current electric vehicles are doing well for nature, but these cars aren't beautiful as the Ferraris and Lamborghinis. British luxury car-maker Bentley has decided to put a stop to this pattern and unveiled EXP 12 Speed 6e, a stylish luxury electric convertible, at the ongoing 87th Geneva International Motor Show.
Also read: Bentley Mulsanne Hallmark series by Mulliner has detailing in gold and silver
"EXP 12 Speed 6e is a concept to show that Bentley is defining electric motoring in the luxury sector, with the appropriate technology, high quality materials and refinement levels you'd expect from a true Bentley. This concept enables us to engage with luxury customers and gather feedback on our approach," said Wolfgang Durheimer, chairman and chief executive of Bentley Motors.
The exterior design revolves around muscular and athletic theme. It also has a retro-modern look with signature twin round LED headlights. The Bentley mesh grille up front is in 3D geometry and gets smoked finish with copper highlight. When the car is running, the '6e' logo will illuminate in white colour.
The twin bonnet scoops add sportiness up front and also channels air for additional cooling to battery and powertrain. The concept gets tiny wing mirrors, which are cameras rather than traditional reflective glass.
On the interior, the entire central console is hewn from a curved glass encompassing a high-definition OLED screen. Handmade, cut-glass sections on the steering wheel contain the controls for media, communications, navigation and car set-up. There are also two buttons featured at the top of the steering wheel -- one to activate instant performance boost and the other to limit speed. Additionally, Copper elements around the gear selector, Bentley Dynamic Drive dial and in the door veneer panels are integrated into the cabin.
Bentley claims that EXP 12 Speed 6e will not compromise on surge of torque and grand touring range. The company aims to develop EXP 12 Speed 6e with a range to drive between London and Paris or Milan and Monaco on a single charge.