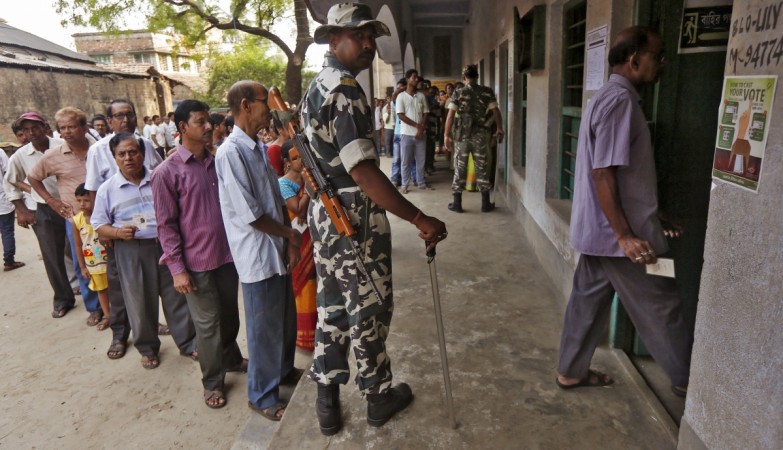 West Bengal, Tamil Nadu, Kerala, Assam and Puducherry saw high voter turnout to elect their representatives to their respective Assemblies, an indication that the Election Commission of India's (ECI) efforts to increase voter participation are paying off.
It was a mammoth exercise, involving about 17 crore voters eligible to elect 822 representatives across the five states at about 1,90,162 polling stations, according to ECI statistics.
The voting percentage was high across the five states, though it fell in Tamil Nadu, Puducherry and West Bengal.
The highest turnout ratio was in Assam at 84.7 percent, while the lowest was in Tamil Nadu (74.3 percent). The figures for TN, Kerala (77.4 percent) and Puducherry (84.1 percent) are provisional.
An editorial in the Hindu attributed the turnout to the ECI's outreach.
"Certainly, voter interest has been enhanced because of the relative ease in polling brought about and other steps taken by the EC. These include an increase in the number of polling stations, the use of voter identification cards and photo electoral rolls, and a computerised system that allows for easier verification of residence," wrote the daily.
The participation of all sections of society, irrespective of social or economic status, was commendable in the context of the contrast prevailing in democracies such as the U.S., it added.
"The enhanced participation of the poor and marginalised sections in the voting process in India is in contrast to that seen in many developed countries, such as the U.S., where gerrymandering and lack of documentation in effect disenfranchise them," it wrote.
The ECI has, in the recent past, been encouraging voters to participate in polling in large numbers by spreading the message through a series of campaigns, some of which have featured film and sports celebrities. This, the daily said, has given voting a "do-good aura."
The counting of votes in all the five states will be held on Thursday. The fate of many prominent regional politicians, such as M Karunanidhi (DMK), J Jayalalithaa (AIADMK), Mamata Banerjee (TMC), Tarun Gogoi (Congress) and Sarbananda Sonowal (BJP) will become apparent in about 24 hours from now.
A victory for the BJP, as suggested by the exit polls, is being seen as giving a boost to the Narendra Modi government for carrying out economic reforms.