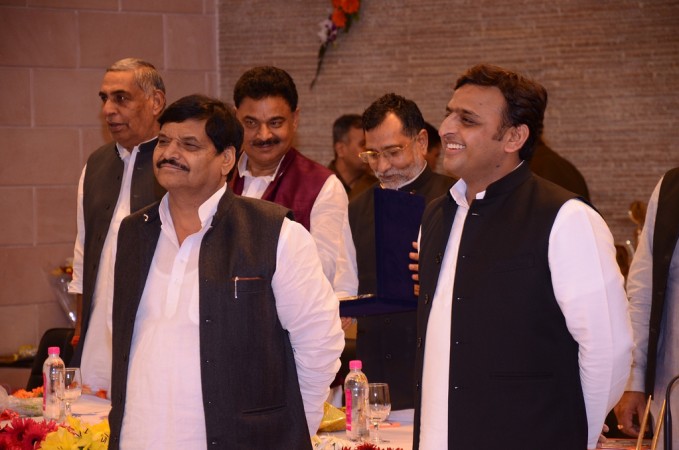 Rashtriya Janata Dal chief Lalu Prasad Yadav on Saturday said that his party and Janata Dal (United) will back Samajwadi Party to re-elect Akhilesh Yadav as the chief minister of Uttar Pradesh. Lalu said that the parties will chase away Bharatiya Janata Party from Uttar Pradesh like his party did in Bihar.
"The government is of SP, and it will be of SP. The flag of the SP would fly high. I have come here to strengthen it," Lalu said. He also tried to play down the tension in the party by saying that there was absolutely no rift in the SP family and that the fight (in SP) is media's creation.
Meanwhile, SP's national president Mulayam Singh Yadav remained silent on the controversial rift within the party and rather chose to speak about the party's agenda of ensuring well-being for the poor and marginalised in Uttar Pradesh.
Mulayam praised the Akhilesh government's work in the state. He, however, also said that more work needed to be done to help the poor and the hungry.
Meanwhile, SP leader Shivpal Singh Yadav took a dig at his nephew Akhilesh and said that even though he was sacked, he has done good work for the party.
Shivpal's comments were in reference to the UP CM sacking him and three other ministers from the state government's cabinet last month. There is an apparent rift in the party with leaders Shivpal, Akhilesh and Mulayam clashing and taking jibes at each other ahead of the state assembly elections next year.
"Sack me, humiliate me, but I know I have also contributed to the government's work, I have done well and I have dispatched my duties," said Shivpal, adding that he will continue to serve SP even without a ministerial post in the state.
While taking a dig at Akhilesh, Shivpal also said that some people have had it easy in their careers to reach a certain position by being somebody's son.
"Some people achieve things because of their luck. Others have to work hard for it. Some people can simply inherit success, while some people sacrifice themselves and still don't get anything," he said.
Akhilesh took a mellowed stand at the event stating that there was no rift in the party and it stands united to defeat communal powers in Uttar Pradesh. Commenting on SP's possible alliance with Congress, Akhilesh said that Netaji (Mulayam) will take a final call on whether to ally with the Congress or not. The CM said that his father and the party president will decide what is right for the party.