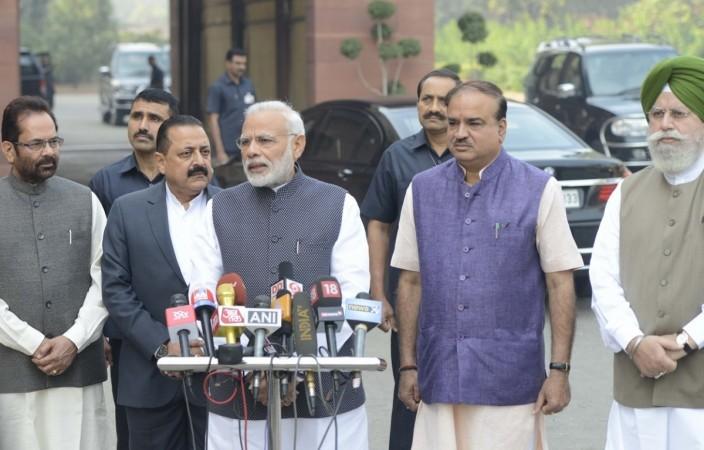 Prime Minister Narendra Modi will address a Parivartan rally in Uttar Pradesh on Monday while launching skill development initiatives for unemployed youth and lay a foundation stone for the Indian Institute of Skills in Kanpur. Meanwhile, Congress vice president Rahul Gandhi will visit Jaunpar to garner support and cash in on post-demonetisation anger among the common people so that it converts to votes in the Uttar Pradesh Assembly elections in 2017.
Before the rally, unidentified people vandalised and burnt rally hoardings in Sarvodayanagar area in the district, according to CNN-News 19. The Opposition, the Congress, also protested in Kanpur against Modi's decision to demonetise Rs. 500 and Rs. 1000 notes.
Bharatiya Janata Party (BJP) workers demanded action against those responsible for the "undemocratic" and "shameful" act.
"Apart from launching 31 Kaushal Kendras which will serve as skill centres and target mainly unemployed youth for training purposes, the Prime Minister will also inaugurate an exhibition named Kaushal Mahotsav," a senior official in the Ministry of Skill Development and Entrepreneurship told PTI.
"The PM will also lay the foundation stone for the Indian Institute of Skills in Kanpur which will focus on providing industrial training," the official added.
The Ministry of Skill Development and Entrepreneurship (MSDE) will be entering a partnership with leather and textiles industry in Kanpur so that one lakh youth can be placed under Pradhan Mantri Kaushal Vikas Yojana. He will also be launching the National Apprenticeship Promotion Scheme.
Kaushal Kendras are state-of-the-art Model Training Centres (MTCs), which the MSDE will be establishing in every district.
The Parivartan rally address will take place later in the day on Monday. Modi has previously addressed Parivartan rallies in Ghazipur, Agra, Kushinagar, Moradabad and Behraich.