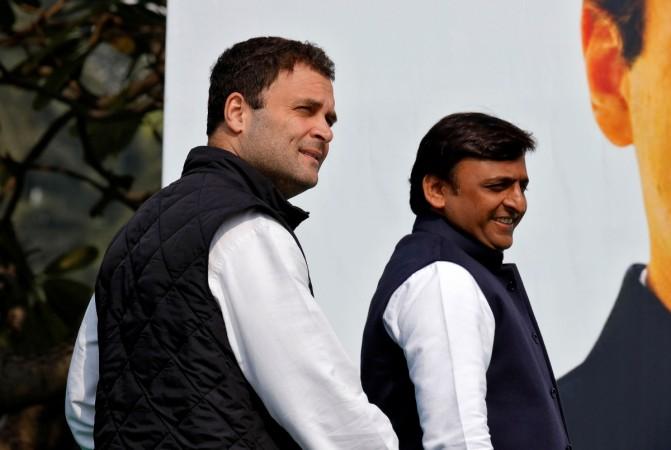 Polling in the fifth phase of the Uttar Pradesh Assembly elections took place on Monday, February 27, from 7 am to 5 pm and saw a 57.36 percent voter turnout. This phase is yet another test of the the mettle of the Samajwadi Party (SP)-Congress alliance in general and Rahul Gandhi in particular, because the Assembly constituencies under his Lok Sabha constituency Amethi will see voting in this phase.
Also read: Akhilesh Yadav says everyone cheated in school, exposing the rot within UP
A total of 51 Assembly constituencies went to polls in the fifth phase of the UP elections. Nearly 1.82 crore people were expected to decide the fate of 607 candidates. Interestingly, the SP fielded 43 of those candidates, while the Congress fielded 14, ensuring that they clash in some constituencies. Given that they have an alliance in place, this move may not have been such a good idea, because it will divide votes and give political rivals a better chance at winning.
Voting was conducted at 18,822 polling booths from 7 am, with farmer welfare and the current law-and-order situation being the two biggest issues that should determine which way the electorate swings. Other issues like development – or promises thereof – are expected to help swing the fence-sitters. Yet another issue will be the Ram Temple the BJP has talked of off and on. After all, Ayodhya is also going to polls today.
Catch all the live updates of the fifth phase of the UP elections here:
6:20 pm IST: 57.36 percent voter turnout till 5 pm
4:49 pm IST: Phase 5 sees 52 percent voter turnout till 4 pm.
3:45 pm IST: Clearly, the voting is quite peaceful in the fifth phase, despite a number of burning and possibly flammable issues being at the centre of the debate on which people are deciding their candidates. The voter turnout is 49.19 percent till 3 pm.
1:35 pm IST: This is turning out to be quite a productive day for polling, with 38.72 percent voter turnout till 1 pm!
11:35 am IST: Polling continues to pick up pace in Phase 5. The voter turnout is 27 percent till 11 am.
9:35 am IST: There has been 10.77 percent voting in the fifth phase of the UP polls till 9 am.
9:25 am IST: BJP MP from Ayodhya Vinay Katiyar has said development, education and employment has been delivered in his constituency, but will mean nothing if there is no Ram Temple.
The statement may invite the ire of the EC, or even the Supreme Court, which has barred political parties from seeking votes in the name of religion.
8:05 am IST: Gayatri Prasad Prajapati, against whom the Supreme Court itself has ordered FIRs to be lodged on charges of several rapes, votes early. The SP candidate says he will win by a large margin.
7:40 am IST: Voting seems to be progressing peacefully across all 11 districts of UP right now.
7 am IST: And the polling begins in earnest. People have already queued up in front of polling stations and are exercising their franchise as we speak.
6:40 am IST: Polling booths are busy with last-minute preparations, like this one in Ayodhya.
6 am IST: People have already started to turn up at just a handful of polling booths. As the hour progresses, their numbers will only increase, until polling starts in right earnest at 7 am.
5 am IST: The EC has worked overtime along with the law enforcement authorities to ensure free and fair polls. A lot of money and alcohol has been seized in the run-up to the elections.
4 am IST: Voting is all set to begin across 18,822 polling stations at 7 am. The Election Commission (EC) has made strict arrangements for smooth polling. Security is tight to ensure that no untoward incident mars polling, while arrangements have also been made to replace non-functioning electronic voting machines.