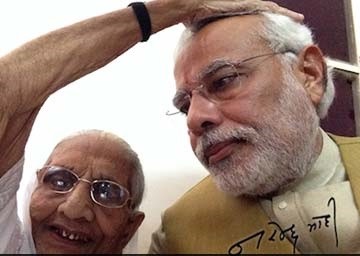 As Bharatiya Janata Party (BJP) wins the Lok Sabha Election 2014, the party celebrates the triumph with a 'V' symbol.
However, few VIP candidates who were expected to win, but lost from different parts of the country reacted and congratulated the winners.
Congress leaders Sonia Gandhi and Rahul Gandhi admitted the party's defeat and congratulated the new government. Both of them took responsibility of Congress' loss in a brief news conference.
Sonia Gandhi : Winning and losing all a part in a democracy, respect people's verdict with all humility #Election2014 pic.twitter.com/LUwBRvnMbZ — ANI (@ANI_news) May 16, 2014
Aam Aadmi Party chief Arvind Kejriwal lost to Modi's in Varanasi constituency. Later, he spoke to the media congratulating the Modi's government.
Congratulate Narendra Modiji, BJP/NDA for winning at the national level : Arvind Kejriwal #Election2014 pic.twitter.com/PmI4JrACHn — ANI (@ANI_news) May 16, 2014
Arun Jaitley lost to Amrinder Singh in Amritsar.
Sangeeta Jaitley (Arun Jaitley's wife) : It is upto the voters, no hard feelings for anyone #Election2014 pic.twitter.com/gXGhq6ksgN — ANI (@ANI_news) May 16, 2014
Smriti Irani lost to Rahul Gandhi in Amethi
Smriti Irani : I am here today, I shall be here whenever Amethi needs me #Election2014 pic.twitter.com/MHwasTonj2 — ANI (@ANI_news) May 16, 2014
AAP's Yogendra Yadav lost to BJP's Rao Inderjit Singh in Gurgaon
The question we need to ask in Delhi is if Congress cut our votes: Yogendra Yadav, AAP pic.twitter.com/yyBHCbgsPy — ANI (@ANI_news) May 16, 2014
Lalu Prasad's wife Rabri Devi and daughter Misa Bharati lost in Saran and Pataliputra parliamentary constituencies respectively.
I cant offer congratulations to Modi. I am not an opportunist: Lalu Prasad Yadav pic.twitter.com/oRllxXhisE — ANI (@ANI_news) May 16, 2014