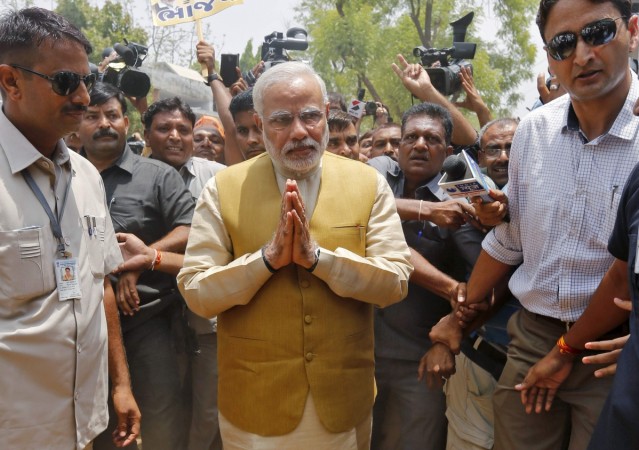 Bharatiya Janata Party (BJP)'s prime ministerial candidate Narendra Modi has recorded a stellar victory in the country's 2014 Lok Sabha elections and Bollywood celebrities have taken to Twitter to share congratulatory messages.
While Modi took to Twitter to share a winning message:
India has won! भारत की विजय। अच्छे दिन आने वाले हैं।

— Narendra Modi (@narendramodi) May 16, 2014
Here's a look at what Bollywood celebrities had to say on Modi and BJP's win at the elections:
Hearty Congratulations dear @narendramodi Ji on your historic win. Best wishes

— Rajinikanth (@superstarrajini) May 16, 2014
BJP....the first major Blockbuster of the year!!!! Huge opening and no sign of a Monday drop!!! — Karan Johar (@karanjohar) May 16, 2014
India's new life with this historical election win. A bright future for this nation and a brighter future for our children. #Welcomemodi

— arjun rampal (@rampalarjun) May 16, 2014
The Wave has hit the shore! A young, sensible & vibrant India gives its verdict! Heartiest congratulations to @narendramodi & his team. — Madhur Bhandarkar (@mbhandarkar268) May 16, 2014
So today we stand MODI-FIED !!! :) now lets have it cominggg :) nation awaits ...

— Chitrangda Singh (@IChitrangda) May 16, 2014
End of era of feudal politics. Dynastic politics. A new India. A new opportunity. A new future. Let' it not go waste @narendramodi congrats. — Shekhar Kapur (@shekharkapur) May 16, 2014
Achche Din Aa Gaye. Jai Ho.:)

— Anupam Kher (@AnupamPkher) May 16, 2014
Heart is beating crazy as I watch election results on TV. Every Indian has spoken & I'm Happy2 see that this will be a stable & solid Govt. — Preity zinta (@realpreityzinta) May 16, 2014
And bring on the fireworks and sweets ! The results are speaking!

— Raveena Tandon (@TandonRaveena) May 16, 2014
Shah Rukh Khan and Farhan Akhtar wished the new government as they hope for changes and development. Their tweets did not highlight Modi or BJP's names.
What a solid mandate given by the ppl.It proves again that the only constant is change.Now to move forward with strong & active faith,India.

— SHAH RUKH KHAN (@iamsrk) May 16, 2014
New chapter in Indian politics begins today. Here's hoping for 5 years of positive growth & development for India and all her people.

— Farhan Akhtar (@FarOutAkhtar) May 16, 2014