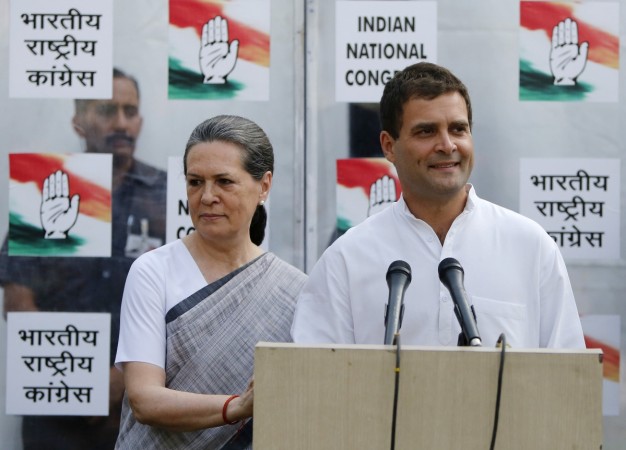 As Rahul Gandhi accepted his party's loss, bewildered public were left with much wonder on why he was giving a big smile to the people when he was supposed to be devastated.
A giant grin on his almost sparking face, the Congress Vice President said simply: "I start by congratulating the new government, they've done really well. The Congress has done really badly; we have a lot to think about. As its vice-president I hold myself responsible."
Sonia Gandhi also took responsibility of the loss in a brief news conference. "We hope that the new government will not compromise on the country's unity and interests of the people. Whatever votes we have got, I thank party workers for them. I take responsibility for our loss," she told reporters.
Even if the words were supposed to have political implications, what grabbed the attention of most people is the odd smile on the face of Rahul Gandhi.
Here are some funny comments by Twitterati on the off-beat occurrence:
Why is Rahul Gandhi smiling? coz of Achhe din ane wale h Or he won in amethi?

— Shubham Pandhare (@iShubhamP) May 16, 2014
Why is Rahul Gandhi smiling in the press conference ? Khushi ke aanso aur sadme ki hansi actually is an oxy"moron" #punintended — Har baar Modi sarkar (@AmitVaani) May 16, 2014
Finally we can see doremon now..lol..RT @WhoTheCares: Why is Rahul Gandhi Smiling so much...Why ??????

— rien de nouveau (@_yes2life) May 16, 2014
Why is Rahul Gandhi smiling? Coz every kid is happy when exams get over and they can go on a vacation — Anshul Agrawal (@tura_anshul) May 16, 2014
Why is Rahul Gandhi smiling so much.Well ask any kid how it feels when holidays start and he can go back and watch Cartoon Network or Pogo

— Anoop Chathoth (@anoopc) May 16, 2014
Why is Rahul Gandhi smiling like an idiot !! Does he even understand what has happened !! — Mahesh Kelkar (@Mahesh_Kelkar) May 16, 2014
Why is Rahul Gandhi grinning so much -- looks like he thinks he engineered the loss so he wont have to be PM! #Soniapressconference

— Chitra Narayanan (@ndcnn) May 16, 2014
Why is Rahul Gandhi Smiling ? At least put a sad face in the press conference yaar. — Aditya (@forwardshortleg) May 16, 2014
Why is Rahul Gandhi, Rahul Gandhi?

— Kushal Shah (@kushalshah02) May 16, 2014
Why is Rahul Gandhi smiling ? Because mummy ne bola hai. :v — Divyansh Kanthra (@divyanshkanthra) May 16, 2014
Why is Rahul Gandhi acting as if he just won a MissIndia contest...waving hands and flashing dimples :/

— Hiral Shah (@hiralshah169) May 16, 2014
Why is Rahul Gandhi smiling? Maybe because he has confused the number of votes he got as the number of seats Congress has won.

— IndiaSpeaks (@IndiaSpeaksPR) May 16, 2014