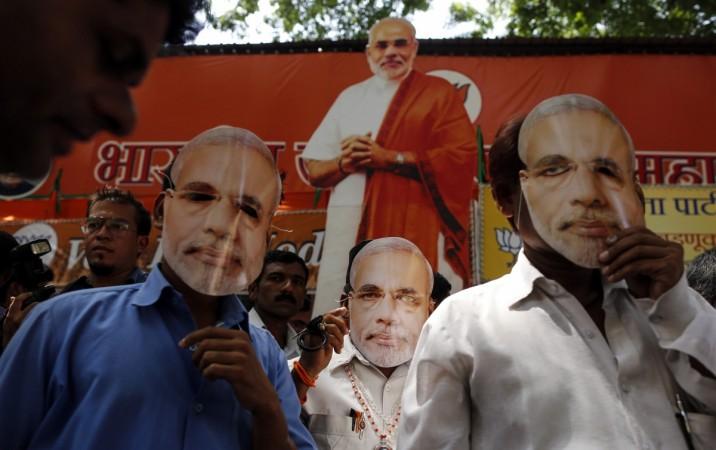 Narendra Modi met his mother Hiraben to take blessings on Friday afternoon after it has become clear that the BJP-led NDA is headed for a grand victory in the 2014 Lok Sabha elections.
Sought blessings from my Mother pic.twitter.com/OegXhartLx — Narendra Modi (@narendramodi) May 16, 2014
Modi's mother had earlier said that her blessings was with her son. "My blessings are with Modi for development," Hiraben told reporters earlier. She further expressed hope that her son will carry out developmental work across the nation like he has done in Gujarat, Zee News reports.
Television footages showed a proud and smiling Modi sitting in a chair with his mother. Family members and some of the party members touched Hiraben's feet as the mother-son bond was seen getting stronger as both held each other's hands, smiling.
Ab ke bar Modi Sarkar RT @indiapostlive #HumBole Narendra Modi meets mother Hiraben as BJP heads for landslide pic.twitter.com/YBIlNcEcTI — Ajmal Jami (@ajmaljami) May 16, 2014
Smiling and sharing laughter all the way, Hiraben was seen constantly talking and sharing her happiness for his son, who will now lead the entire country.
Narendra Modi meets his mother Heeraben. Best moment ever!!! #Elections2014 #PMNaMo pic.twitter.com/4s6ZLrYh2z — chai wallah PM (@sachin__sp) May 16, 2014
With a never-before-seen victory of its kind with 281 seats, it is reported that the 34-year-old BJP can form government on its own. The total seats won by BJP are nine more than the majority mark of 272.
BJP and its allies, who will form the next government under Modi, now have a runaway lead with more than 330 seats. Although it was widely speculated that BJP would win this time, no one would have quite imagined that the 'Modi-wave' would sweep the election in the fashion it did and crush the Congress in an unprecedented landslide.