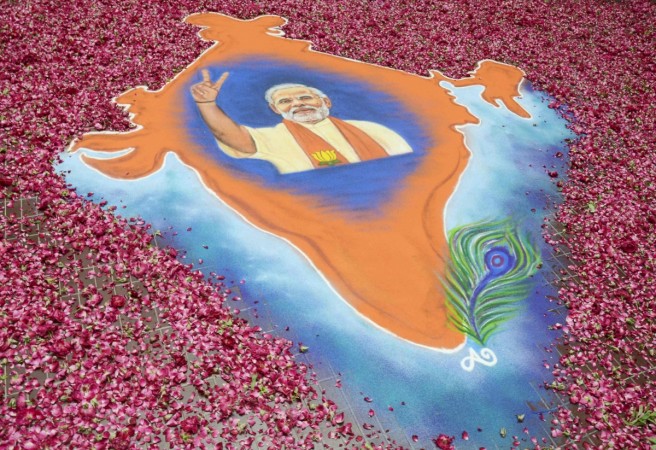 Despite BJP being in the opposition corner of the state assembly, Karnataka voters have clearly shown inclination towards saffron party's Prime ministerial candidate Narendra Modi to form the new central government in Delhi.
The support for BJP has been so overwhelming that the high-profile Congress party candidate, Nandan Nilekani (former chairman of UIDAI (Unique Identification Authority of India) and Infosys co-founder), who was seen as nemesis of the record 5 time MP Ananth Kumar in Bangalore South, faced a major drubbing. He lost the battle by a huge margin of more than 2.28 lakh votes against BJP veteran leader.
Other high-profile defeats include, movie star Ramya (Mandya), former chief minister HD Kumara Swamy (Chikkaballapur), daughter-in-law of Kannada film icon, Rajkumar- Geetha Shivrajkumar (Shimoga) among others. Veteran Congress leader A.H Vishwanath got defeated by a youth journalist Pratap Simha (BJP) in Mysore, whereas former Chief-minister N Dharam Singh is also on the verge of defeat at the hands of Bhagawanth Khuba (BJP) who is leading the counts with more than 80,000 votes at the time of reporting.
As per the latest report, BJP has secured 17 seats, while Congress and JD-S have managed to win 9 and 2 seats respectively in the 16th Lok Sabha elections in the Karnataka region.
2014 Lok Sabha Election Results (Karnataka Region):
| | | | |
| --- | --- | --- | --- |
| Constituencies | Winning Party | Candidate Name | Winning Margin |
| Chikodi | INC (Indian National Congress) | PRAKASH BABANNA HUKKERI | 3272 |
| Belgaum | BJP (Bharatiya Janata Party) | ANGADI SURESH CHANNABASAPPA | 75860 |
| Bagalkot | BJP (Bharatiya Janata Party) | GADDIGOUDAR PARVTAGOUDA CHANDANAGOUDA | 116560 |
| Bijapur (SC) | BJP (Bharatiya Janata Party) | RAMESH JIGAJINAGI | 69819 |
| Gulbarga (SC) | INC (Indian National Congress) | MALLIKARJUN KHARGE | 74733 |
| Raichur (ST) | INC (Indian National Congress) | B.V.NAYAK | 1499 |
| *Bidar | BJP (Bharatiya Janata Party) | BHAGWANTH KHUBA | 92,222 |
| Koppal | BJP (Bharatiya Janata Party) | KARADI SANGANNA AMARAPPA | 32414 |
| Bellary (ST) | BJP (Bharatiya Janata Party) | B. SREERAMULU | 85144 |
| Haveri | BJP (Bharatiya Janata Party) | UDASI SHIVAKUMAR CHANNABASAPPA | 87571 |
| Dharwad | BJP (Bharatiya Janata Party) | PRALHAD JOSHI | 113657 |
| Uttara Kannada | BJP (Bharatiya Janata Party) | ANANTKUMAR HEGDE | 140700 |
| Davanagere | BJP (Bharatiya Janata Party) | G M SIDDESHWARA | 17607 |
| Shimoga | BJP (Bharatiya Janata Party) | B. S. YEDDYURAPPA | 363305 |
| Udupi-Ckikmagalur | BJP (Bharatiya Janata Party) | SHOBHA KARANDLAJE | 181643 |
| Hassan | JD-S (Janata Dal - Secular) | H.D. DEVEGOWDA | 100462 |
| Dakshina Kannada | BJP (Bharatiya Janata Party) | NALIN KUMAR KATEEL | 143709 |
| Chitradurga (SC) | INC (Indian National Congress) | B.N.CHANDRAPPA | 101291 |
| Tumkur | INC (Indian National Congress) | MUDDAHANUMEGOWDA.S.P. | 74241 |
| Mandya | JD-S (Janata Dal - Secular) | C.S.PUTTARAJU | 5518 |
| Mysore | BJP (Bharatiya Janata Party) | PRATHAP SIMHA | 31608 |
| Chamrajnagar (SC) | INC (Indian National Congress) | R. DHRUVANARAYANA | 141182 |
| Bangalore Rural | INC (Indian National Congress) | D K SURESH | 231480 |
| Bangalore North | BJP (Bharatiya Janata Party) | D.V SADANANDA GOWDA | 229764 |
| Bangalore Central | BJP (Bharatiya Janata Party) | P.C. MOHAN | 137500 |
| Bangalore South | BJP (Bharatiya Janata Party) | ANANTH KUMAR | 228575 |
| Chikkaballapur | INC (Indian National Congress) | M VEERAPPA MOILY | 10237 |
| Kolar(SC) | INC (Indian National Congress) | K.H.MUNIYAPPA | 47850 |
[*Bidar: Counting still in progress with Bhagawanth Khuba (BJP) leading with more than 80,000 votes against former Karnataka CM, N. Dharam Singh (Congress)]
[Update: Bhagawanth Khuba (BJP) wins the Bidar Lok Sabha constituency with a big margin of 92,222 votes against former Karnataka CM, N. Dharam Singh (Congress) ]