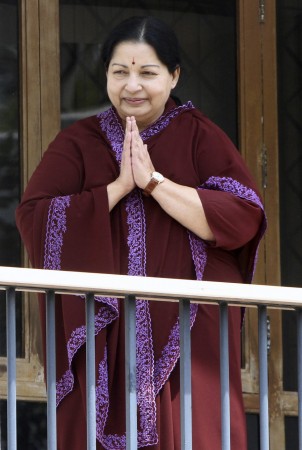 The J Jayalalithaa-led All India Anna Dravida Munnetra Kazhagam (AIADMK) has emerged as the third largest political party in India (Bharatiya Janata Party (BJP) and the Congress), when results of Lok Sabha Elections 2014 were announced on 16 May. AIADMK has won 37 of the total 39 Lok Sabha seats in Tamil Nadu (TN).
Buoyed by the landslide victory of her party, Jayalalithaa, the TN Chief Minister, attributed the win to the people's love for her government.
"This is a historic, unparalleled victory and was achieved by AIADMK on its own. We will strive to implement all those things promised in our manifesto. As per the trends available, now the AIADMK is going to be the third largest party in Lok Sabha," Jayalalithaa said at her Poes Garden residence in Chennai, soon after the election trends pointed towards majority to her party.
"Moreover, this is a mandate given by the people of the state for our three years' rule. We are forever thinking about the people and its welfare and we got rewards for it," she added.
The AIADMK General Secretary thanked the people for giving such a massive mandate that made her party the third largest in the Parliament. The Chief Minister said that her government's welfare programmes have benefited the people. In turn, the people have showed their love for her government, she said.
Jayalalithaa also congratulated Narendra Modi of BJP, who is going to become the next Prime Minister of India.
"I wish the new Prime Minister well," she said.
Jayalalithaa added that the AIADMK will work as a responsible political party. It is expected that the AIADMK general secretary will definitely have a clout at the Centre.
Jayalalithaa had campaigned extensively all over the state in a phased manner, despite opposition party DMK's endeavours to scuttle the ruling AIADMK's campaign tactics.
The DMK, which forged an alliance with two main Muslim parties and Dalit parties in Tamil Nadu, failed miserably to win seats in this election to the Lok Sabha.
Also, the BJP's alliance with five regional parties, including Vijaykant's DMDK, Vaiko's MDMK and Ramadoss-headed PMK, has not made any impact in this general election in TN.