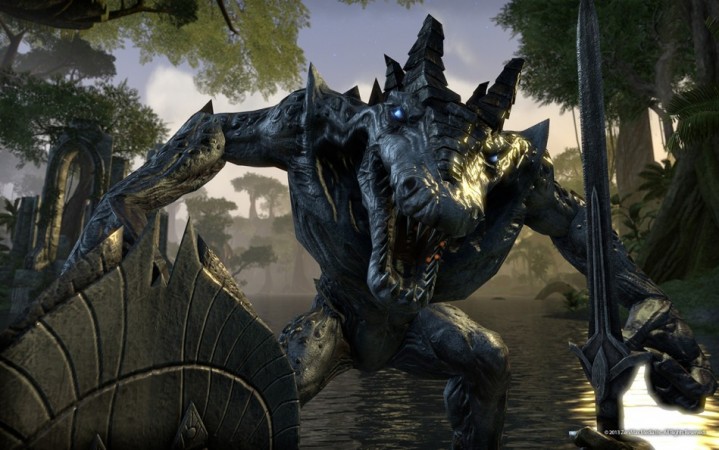 Release of The Elder Scroll Online: Tamriel Edition from Bethesda Softworks has been bogged down by several issues as reports from various quarters have suggested.
Players have been having troubles from different quarters – from connection problems to server issues. The game was released on PlayStation 4 and Xbox One.
Players will need to download a huge 15GB day-one patch and hence the servers will feel the load. The admin at Zenimax noted that the error being faced was due to the "high volume of traffic" hitting the servers.
It was reported that the game when released was not working for both European and North American players. Fans posted their grievances in the official Forum thread.
Jason Leavey, the community coordinator, has assured players that the game will be fixed, "Hey everyone. We're working on getting this resolved as soon as possible. We'll update you as soon as everything is up and running. Thanks for your patience!"
It also listed "known issues" that players might face in the game. It said that these will be fixed in the future patches and updates.
Art
Other player characters will occasionally appear as black silhouettes while either fighting in large battles in Cyrodiil, or when jumping repeatedly within two way-shrines.
Combat and Gameplay
Attempting to destroy an item and simultaneously clicking the Back option will result in loss of Y-axis functionality. Relogging will fix this issue.
Holding the D-Pad in any direction during a loading screen will occasionally prevent you from moving your camera. Pressing the D-Pad again after loading will resolve this issue.
You may encounter some invisible NPCs during your play. This will be fixed in our next incremental patch, but in the mean time, completely closing the game and/or rebooting your system should make them appear.
Quests and Zones
You may encounter loading times up to two minutes when reviving at the wayshrine in Razak's Wheel.
Although rare, you may become stuck in place when interacting with the symbol of Arkay while on the Blood Matron quest. Relogging will fix this issue.
UI
Character names are currently displayed on all leaderboards instead of the appropriate PSN Online ID or Xbox Live gamer tag.
A UI error will occasionally be displayed when attempting to view the Guild History window.
Pressing Select on the character selection screen will sometimes cause a UI error. This only affects those that have an Imperial Edition of the game.
If you attempt to delete a character and then cancel the delete, you will lose the ability to zoom or rotate your character at the Select Character and Character Creation screens. Relogging will fix this issue.
If you ignore another player who is not online at that moment, or try to remove them from ignore while they're not online, the action may not immediately occur. Simply viewing your ignore list will fix this issue.
If you ignore another player who is on your friend list, they may become un-ignored the next time they log in. This is a rare case, and relogging will fix this issue.
PlayStation 4
You may run into issues getting on your mount while in Remote Play. As a temporary work-around, quickly tap the Vita screen five times.
The icon for new mail will still be displayed if you have chat or message restriction turned on. You will not actually receive mail; this is just a UI error.
Xbox One
You cannot currently view the option to purchase an ESO Plus membership through the Xbox Marketplace. It can still be purchased by visiting the Crown Store in-game and pressing the right analog stick.
The game was released for PC in 2014 and only this year it was released for PS4 and Xbox One.