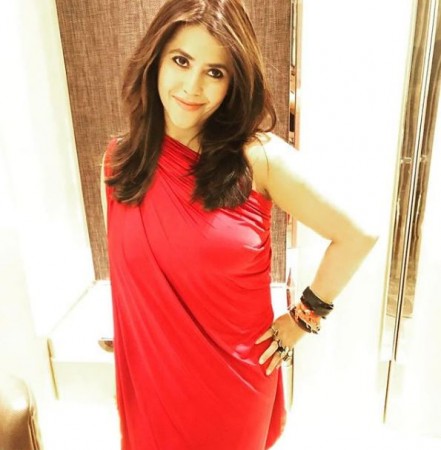 Shah Rukh Khan's TV show The Ted Talks India: Nayi Soch has been grabbing a lot of attention as it provides the platform for sharing ideas on different subjects.
Several popular and reputed people from various fields including Javed Akhtar, Mithali Raj and Karan Johar have taken the stage to share information and their experience on different subjects.
Not just a TV queen, Ekta Kapoor rules digital space too; Alt Balaji App scale new heights
Ekta Kapoor, who is known as the queen of the television industry, was also one among the speakers in a recently shot episode.
While Ekta's hard work and quest to bring good content to the audience play a major role in her success, she believes astrology also has a big role in her achievements.
According to a report in Mid-Day, the Balaji Telefilms head honcho brought this belief on the sets of The Ted Talks India: Nayi Soch as well. The producer apparently insisted on speaking for exactly five minutes and forty seconds on the stage, not a minute more or less. Apparently, it was advised by her astrologer that this particular duration would be lucky for Ekta.
We wonder how Shah Rukh Khan reacted to this unusual demand.
Meanwhile, the first episode of Ted Talks India: Nayi Soch, which was launched on December 10, left many disappointed as a lot of information was shared by five speakers in one single episode and left very little time for the audience to process the information.
Another negative point of the show that the audience felt was that it targets only a certain section of the viewers. SRK's minimal screen time makes it even more difficult for people to remain hooked to the show.