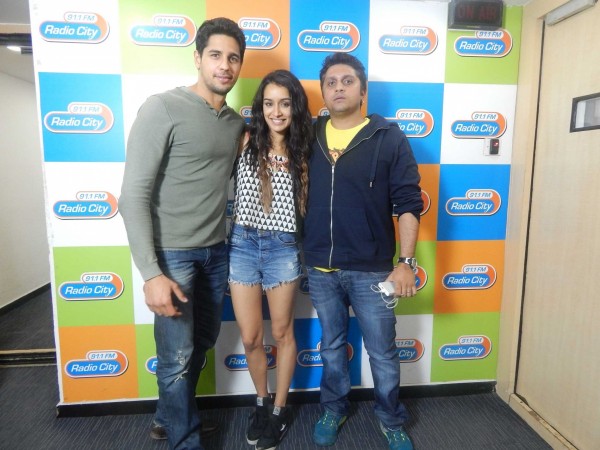 The release of the much awaited final track of "Ek Villain" will coincide with the film's release date. The song "Humdard" written and composed by Mithoon and featuring Sidharth Malhotra as "Guru" and Shraddha Kapoor as "Aisha", is set to hit theaters on 27 June.
Singer Arijit Singh, who lent his voice in Humdard, will be seen working with the director Mohit Suri after their superhit "Tum Hi Ho" from Aashiqui 2.
"We've saved the best for the last. So far, the response to the audio has been overwhelming, and with the video, it's going to reach a new level," TOI quoted Mohit Suri.
The film is based on the love story of a villain. The romantic thriller features Shraddha Kapoor and Sidharth Malhotra, the stars from the blockbuster "Aashiqui 2" and "Student of the Year" . Riteish Deshmukh is seen in a negative role here .
The music album of "Ek Villain" has received positive reviews from around the world. With songs such as "Teri Galiyaan" sung by Ankit Tiwari, "Awari" by Adnan Dhool, "Banjaara" by Mohammad Irfan, it also has soothing songs like "Humdard" by Arijit Singh and "Zaroorat" by Mustafa Zahid, it will surely make the music album worth listening to and the movie worth a watch.
"Black and white characters are mundane, our film explores the grey streak in every individual. Love has the power to humanise a beast and to create a beast out of a good person. The kind of love that enters your life determines its course," said the Aashiqui 2 director about the film in a report.
After Suri's last film, "Aashiqui 2" (2013) crossed the Rs100 crore mark in 100 days all eyes are on the director's latest film, Ek Villain.
With the release of the trailer of "Ek Villain", buzz has been created among its viewers who are all excited to watch the movie. The crew of the movie also claim that the movie has all villains and no heroes. The movie is inspired from the movie "I Saw the Devil", a Korean superhit.
"Ek Villain speaks of a love that wasn't meant to be. The sweet girl-next-door with fire in her heart and an angry young man hell-bent on setting the world on fire. This is an unconventional musical romance born out of angst," Mohit Suri said in a release, reported Indian Express.
Both Suri and Kapoor are expecting another blockbuster after they worked together with the stupendous hit, "Aashiqui 2" that collected more than ten times its budget. Both Shraddha and Mohit were critically acclaimed for their great work.
"Ek Villain", produced by Balaji Motion Pictures will release on Friday, 27 June 2014.