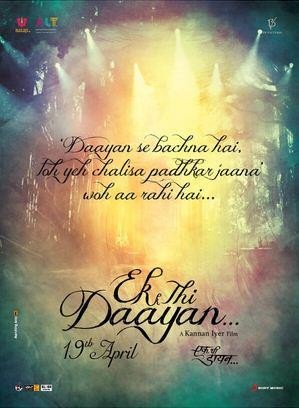 Supernatural thriller "Ek Thi Daayan" starring Emraan Hashmi earned ₹18.07 crore in the opening weekend at the domestic box office.
"Ek Thi Daayan," which is based on the life of a magician named Bobo played by Emraan and a witch, had a decent opening by raking ₹6.24 crore in India. The collections of the movie dropped on the second day but picked up on Sunday with its earnings at ₹6.20 crore.
"#EkThiDaayan collected approx ₹18.07 cr in its opening weekend. Breakup: Fri 6.24 cr, Sat 5.63 cr, Sun 6.20 cr," film critic and trade analyst Taran Adrash tweeted.
The horror flick which also stars Konkona Sen Sharma, Huma Qureshi and Kalki Koechlin is directed by Kannan Iyer. Ekta Kapoor and Vishal Bhardwaj have jointly produced the movie.
The much hyped movie despite receiving good critics review failed to reach the opening weekend collections of Emraan's last movies - "Janaat 2" and "Raaz 3". While "Janaat 2' had raked in around ₹24 crore in the opening weekend, "Raaz 3" had collected ₹35 crore. "Ek Thi Daayan" had more occupancy in multiplexes than single screens on the release day.
Reviewing the movie post its release on 19 April, Adarsh said, "On the whole, EK THI DAAYAN is an imaginative and appealing supernatural thriller. The film is placed in a relatable world, with myths about witches expertly intertwined in its absorbing screenplay, something which a spectator can effortlessly identify with. Exceptionally novel and attention-grabbing, it's a first of its kind. Watch it for the sheer novelty it puts on display in its genre!"
Meena Iyer of The Times of India remarked, "Woven beautifully between the world of magic, occult and suspense, Ek Thi Daayan, makes for compulsive viewing, providing some spine-chilling thrills at short gaps".