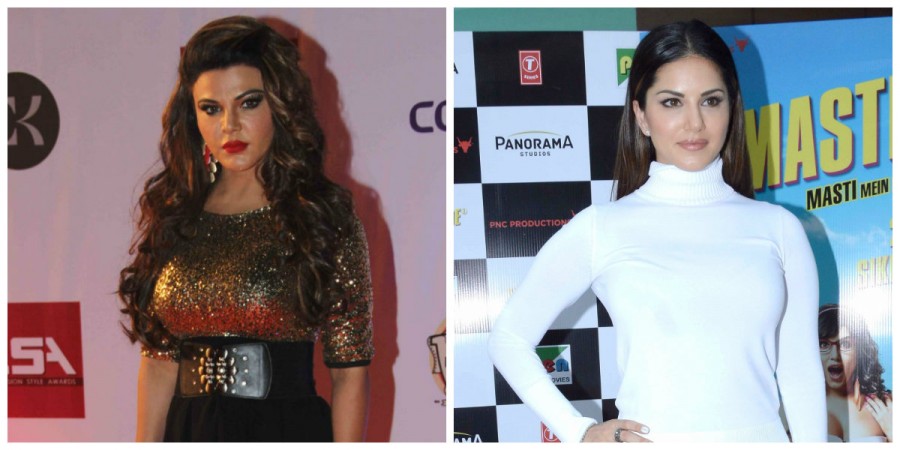 Rakhi Sawant has again targeted Sunny Leone after her upcoming movie "Ek Kahani Julie Ki" was granted "A" certificate by the censor board. The controversial actress not only criticised Sunny calling her a "porn star", but also slammed CBFC chief Pahlaj Nihalani.
Rakhi is miffed with the censor board after it granted "A" certificate to "Ek Kahani Julie Ki." The actress said that the board had first given a "UA" certificate to the film, but later changed it to "A" certificate for some reason.
Rakhi lashed out at "Beiimaan Love" actress Sunny and the censor board saying that the latter had issued "UA" certificate to "porn star" Sunny's film, but made it "A" for her movie. "I have not come from abroad and I am not a porn star. They have issued an UA certificate to a film like 'Ek Paheli Leela' in which a porn star has shown all kind of filth, nudity and obscene content and we have not even worn short dresses," Rakhi told the Times of India.
"I am struggling for the last 12 years in the industry and there is no adult content in the movie, still we are sitting with an A certificate," she added.
Known mostly for her item numbers and hosts of controversies, Rakhi even said that she would barge into the CBFC head's house and she will pull him down from the authority. Rakhi also accused the board of taking bribe from producers.
"The censor board should be shut down as they do nothing, but take money from big banners and tease the poor producers. They openly ask for bribe and take unnecessary advantage of their position," angry Rakhi told the publication.
"The people sitting there are literally incompetent and uneducated. I will make sure we shut it down. I will get inside Pahlaj Nihalani's house and pull him down from his chairman's chair," she added.
Rakhi has slammed Sunny several times in the past and challenged that she would make arrangements to deport the actress from India.