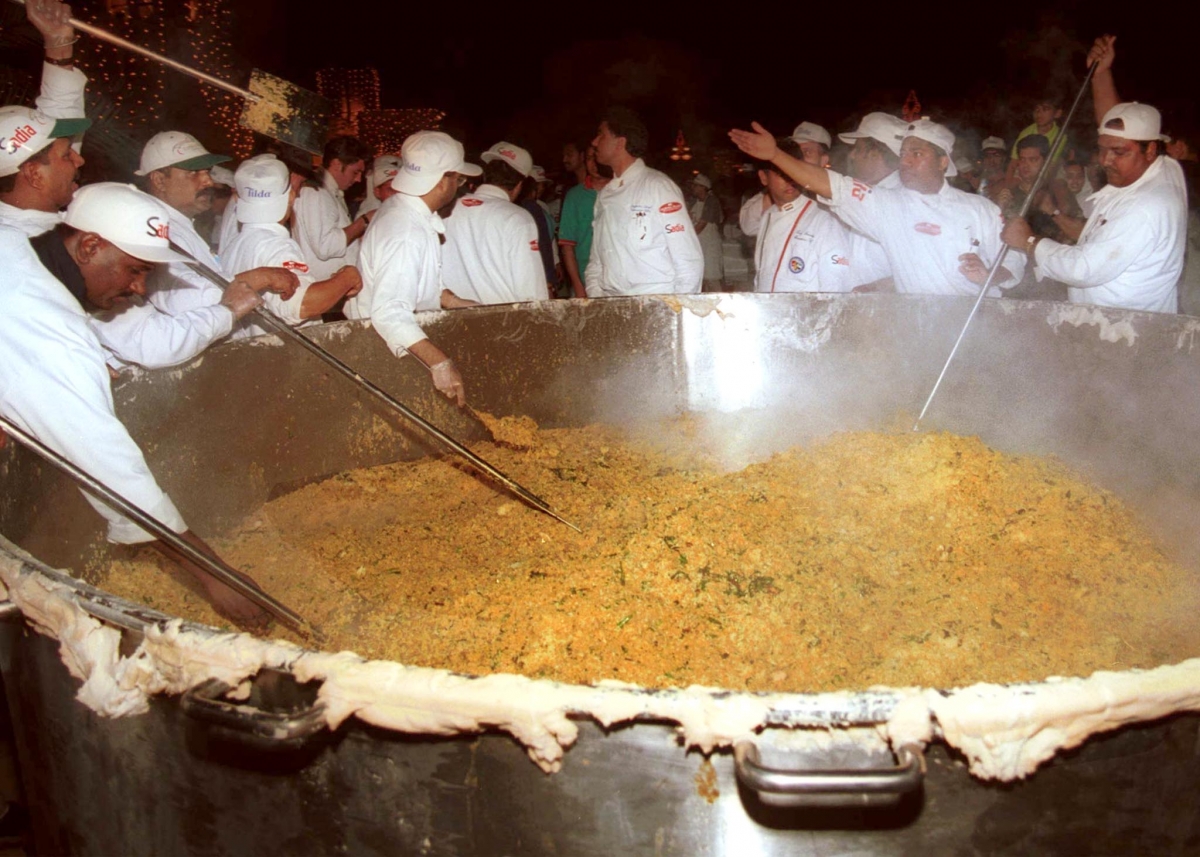 The holy month of daytime fasting that is Ramadan is almost over, and preparations are under way to celebrate what will be a really welcome Eid-ul-Fitr. Sure, it's a good idea to dine out with family and friends, but an equally good one is to stay at home and savour food prepared by hands that know exactly how to tickle your tastebuds.
Here are some recipes for exactly such a home-cooked feast.
Mutton biryani: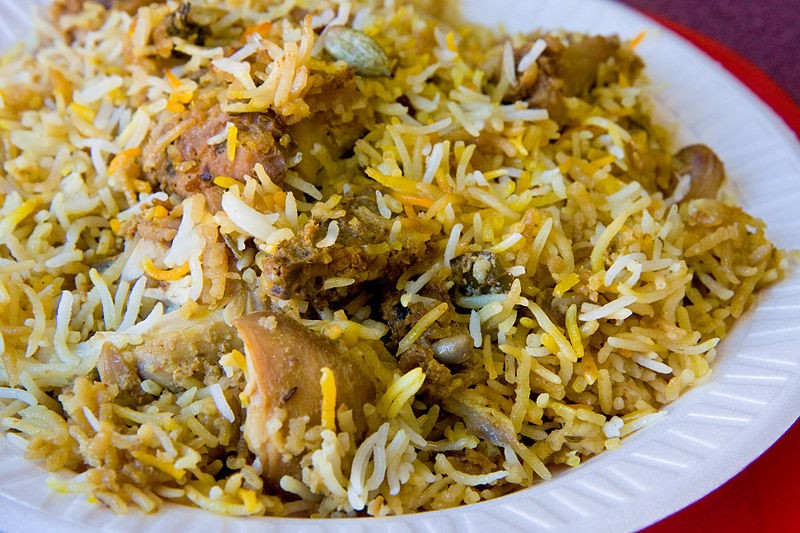 This is Bakr Eid, and it would be only apt if the biryani — which is to bind this feast together — would have mutton in it. Note: This recipe uses a 240-ml cup and yields four servings.
Ingrediants for marinade:
500 gm tender lamb mutton (cut to a size of the maker's choice)
1 cup thinly sliced onions or â…" cup fried onions
1 to 1¼ teaspoon red chili powder
1 teaspoon biryani masala powder or mutton masala
1 tablespoon ginger-garlic paste
A quarter teaspoon turmeric powder
A half cup fresh yogurt (not the sour one)
1½ tablespoon fresh lemon juice
1 tablespoon oil (to tenderise the mutton)
A half teaspoon Salt
2 teaspoons of papaya paste (optional)
For rice:
2 cups of aged basmati rice (soaked for 20 mins)
6-8 cups of water
1 bayleaf
½ teaspoon shahi jeera
2-3 cloves or laung (optional)
1 small cinnamon stick or dalchini (optional)
2-3 green cardamom or choti elaichi (optional)
Seasoning:
3 tbsp. Oil or ghee (do not reduce)
1 bayleaf
¾ teaspoon shahi jeera or black cumin
4 green cardamoms or choti elaichi
1 star anise or chakri phool
A 2-inch cinnamon stick or dalchini
6-8 cloves or laung
Also:
1 cup onions sliced thinly
2-4 green chilies, slit
A handful of chopped coriander and mint or pudina (for top layer)
Another handful of mint leaves or pudina and coriander leaves and dhania patta (for seasoning)
½ cup fresh yogurt (room temperature)
A generous pinch of saffron soaked in 2 tbsp of hot milk
Instructions:
Wash the mutton, drain thoroughly and marinate with ingredients. Set it aside for at least 4 hours, or overnight. If you are using raw papaya paste, you can just set aside for 30-40 mins.
Wash rice and soak for 30-40 minutes. Drain it completely to a colander and set aside.
Heat a heavy bottom pan or a pressure cooker with oil, add the dry spices.
Skip this step if using store bought fried onions. Add onions, green chilies and fry till they turn brown almost about to caramelize. Keep stirring to prevent burning. This is crucial to get a good aroma and taste. There must be enough oil for the onions to fry. Set aside half of the fried onions for garnish.
Reduce the flame to low. Add the marinated meat. Add half of the coriander and mint leaves saute for 3 to 4 mins.
Cook covered on a low flame till the mutton turns soft and tender or cook for 2 to 3 whistles in a pressure cooker. Switch off the stove. If cooking in the pan without pressure cooker, stir occasionally to prevent burning. Remember the flame has to be very low otherwise mutton may turn hard.
While the meat is cooking, Bring water to a boil in a large pot, add the spices and salt. Make sure the water is slightly salty.
When the water comes to a boil, add the drained rice and cook until 90% done or aldente. When you bite the grain , it must be cooked completely but you must be able to feel the bite into it. Drain it off to a colander.
Soak saffron in little milk and set aside.
When the pressure goes off, remove the lid. You will be left with a thick gravy. You mutton must be cooked completely now. Check it , if still undone cook until it is soft and tender.
Add the rest of the half cup curd. Again few chopped coriander and mint. Few fried onions. Mix everything well. You can check the salt and spice at this stage and adjust.
Layer the rice evenly over the cooked lamb meat. Sprinkle some chopped coriander and mint leaves, fried onions and tbsp of ghee. Lastly pour the saffron milk.
Cover the rim of the biryani pot with a moist thick clean cloth or foil. Place a heavy lid over it. If you do not have a heavy lid. Just place a bowl filled with water over the lid. You can also seal it with atta.
Heat a old tawa until very hot. Place this biryani pot over the hot tawa and cook on a low flame for 15 mins.
Allow to rest for at least 15 mins.
Serve with raita.
Note:
For the dum process, use any heavy bottom pot. Do not use cast iron pot or pans.
The timing of the dum may vary with the utensil.
Recipe courtesy: Indian Health Recipes.
Steamed Kabab: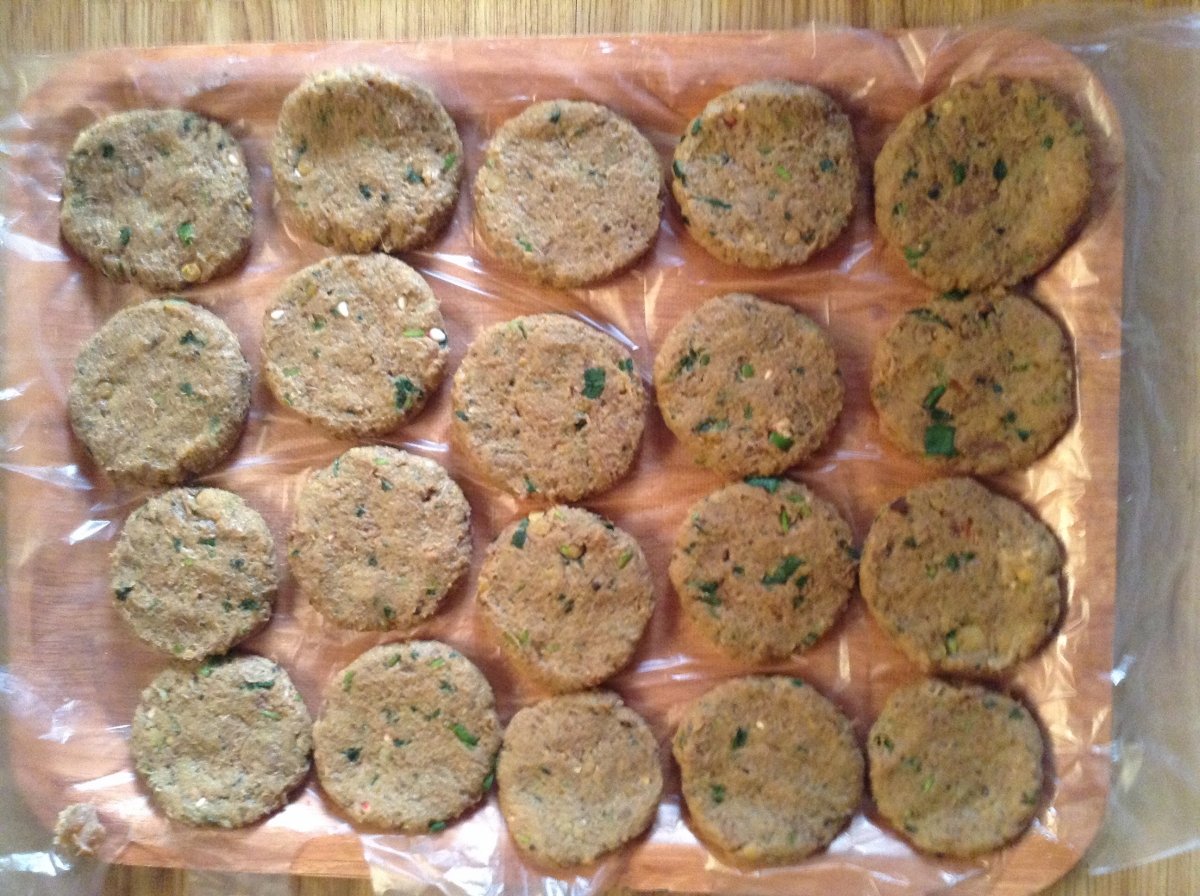 No Ramadan or Eid fare is complete without kababs. And for a change, here are some that could actually be healthy!
Ingredients:
300 gm minced mutton
1 onion
1 inch cube ginger
1 Teaspoon garlic paste
1 teaspoon curd
½ cup coarsely chopped coriander leaves
5-6 green chillies
1 teaspoon chilli powder
Freshly crushed black pepper
Salt to taste
Oil
Instructions:
Chop together green chillies, onions and ginger.
Add the minced mutton and chop in a mixer-grinder. Add rest of the ingredients and let it mix till the mixture is not lumpy.
Don't add any water.
Grease palms with a little oil, and make small balls with the mixture.
Shallow-fry on a pan till the outside turns golden.
Place the fried kabab balls onto a stick and into a steamer.
Cover it and let it steam for 10-15 minutes.
Serve with sauce or chutney.
Recipe courtesy: IANS
Mutton Curry: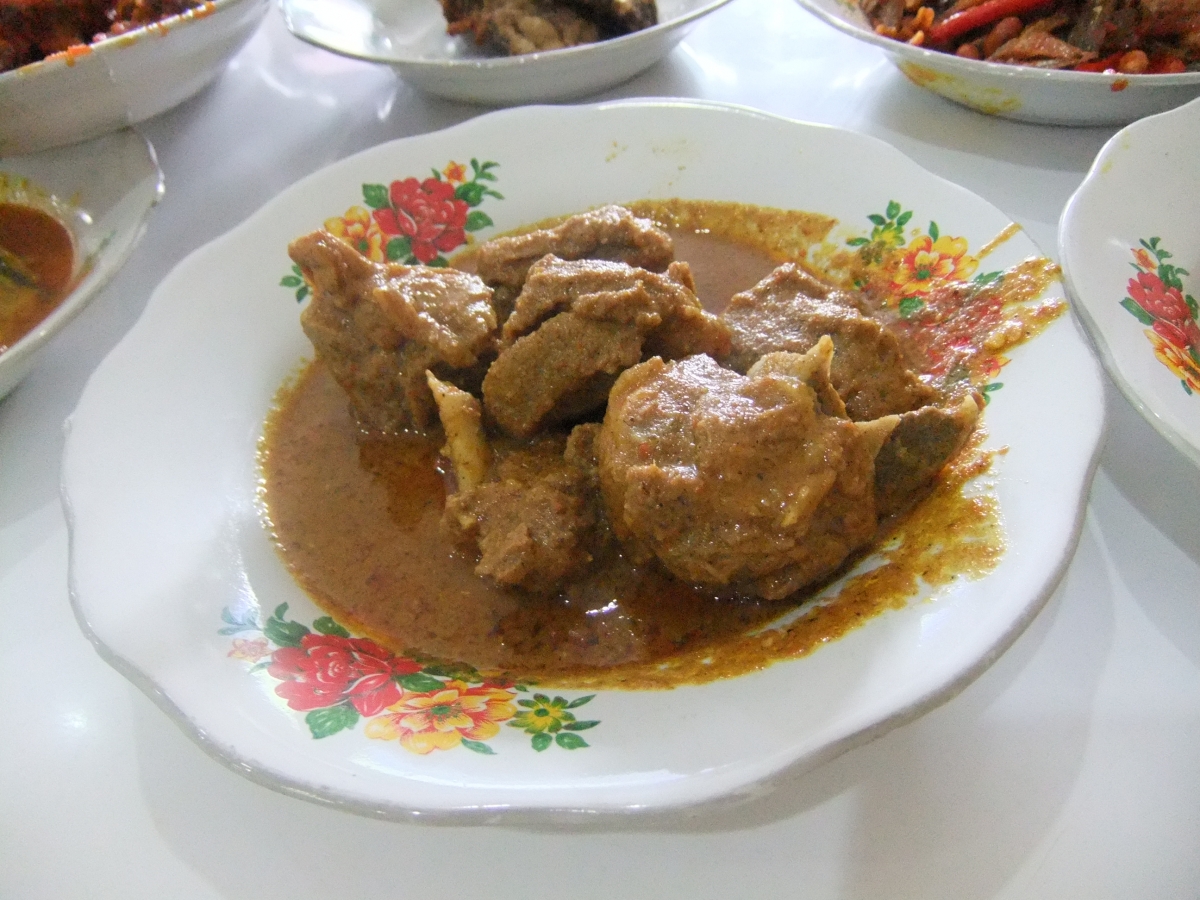 Sure, the biryani and the kabab go down well, but they go down better with some gravy. But why make gravy if there is nothing in it? Ergo, a mutton curry!
Ingredients:
Mutton - 1 lb (cut into small cubes)
Potato - 1 big (cut into cubes - optional)
Onion - 1 medium (sliced)
Tomatoes - 2 (chopped)
Turmeric Powder - 1/2 tsp
Lemon Juice - 1 tbsp
Bay Leaf - 1
Oil - 3-4 tbsp
Salt - to taste
Cilantro (Coriander Leaves) - for garnish
Curry Leaves - 1 spring
Ingredients for the powder/paste:
Whole Garam Masala - 1 cinnamon stick, 2 cloves, 2 cardamom, 1 star anise, kalpasi - 2
Fennel Seeds - 1 tsp
Cumin Seeds - 1/2 tsp
Black Peppercorns - 1 tsp
Coriander Seeds - 3 tbsp
Dry Red Chillies - 4-5
Grated Coconut - 4-5 tbsp
Poppy Seeds - 2 tsp
Ginger - 1.5" piece
Garlic - 5 cloves
Green Chillies - 3
Curry Leaves - 1 spring
Shallots (Sambhar Onions) - 10
Instructions:
Wash the mutton and marinate it with salt, turmeric powder and lemon juice.
Heat 1 tbsp of oil in a pan and add the ingredients under 'to grind' one by one. Fry for few minutes.
Let it cool. Grind it to a smooth paste. (Note : - You may skip step 2 and add everything without frying too. Frying mellows down the flavors of the spices.)
Heat oil in a pressure cooker and fry the sliced onions.
Next add the tomatoes, bay leaf, turmeric powder and the ground masala paste.
Add the mutton pieces and potato cubes. Fry everything for few minutes.
Add water and salt as needed.
Cover the pressure cooker and cook for 6-7 whistles. (Note :- Each pressure cooker is different. Tender mutton cooks faster. Cook till you are satisfied with the tenderness of the mutton pieces.)
After the pressure is gone, open the cooker. Garnish with fresh curry leaves and cilantro.
Recipe courtesy: Simple Indian Recipes
Shahi Tukda (aka Double ka Meetha):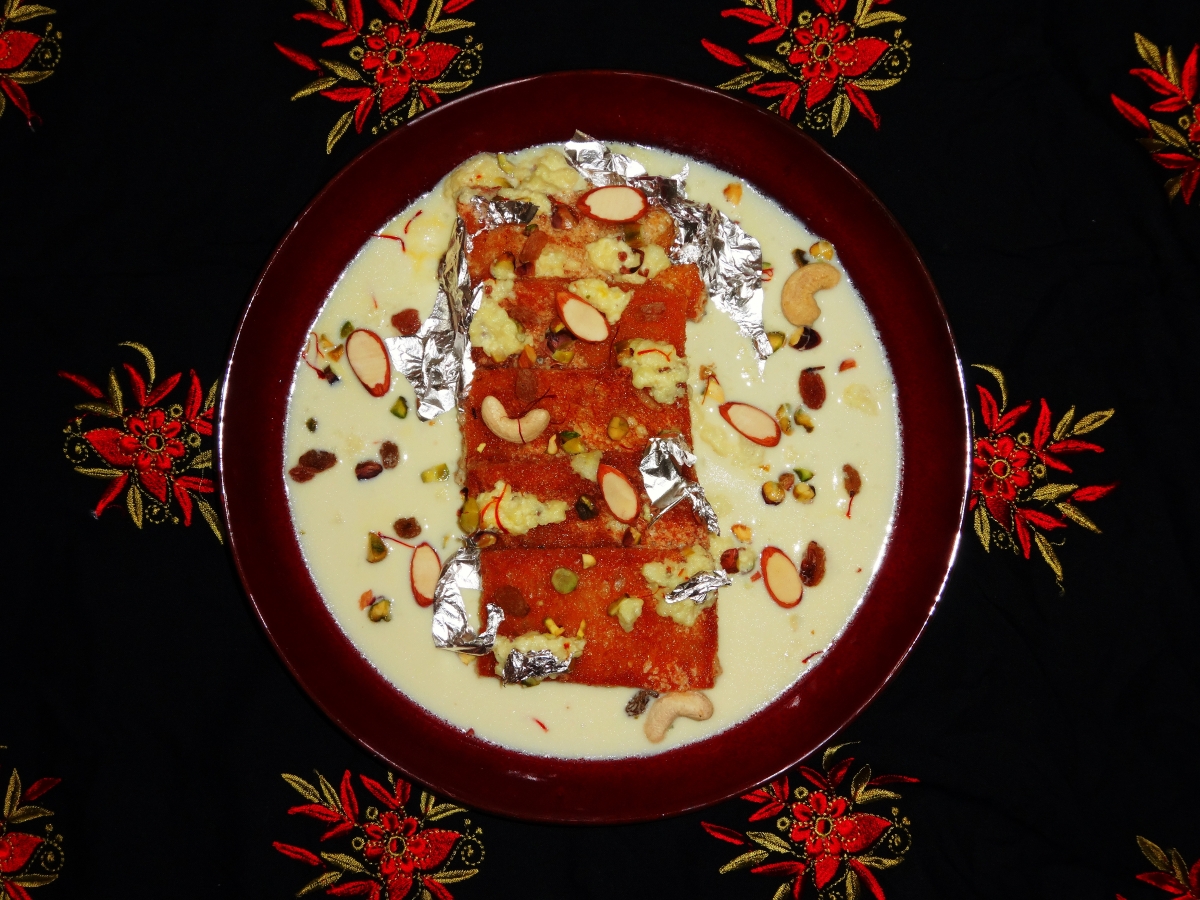 A feast without a desert is unheard of. Amd after all that spice, the tongue craves something extra sweet. So why not Shahi Tukda, aka Double ka Meetha?
Ingredients:
Bread - 4 slices (cut into small cubes/triangles/circle)
Milk - 6 cups (about 3/4 lit.)
Sugar - 3 tblsp (for rabdi)
Sugar - 1/2 cup (for sugar syrup)
Water - 1/2 cup (for sugar syrup)
Ghee - 1/2 cup
Cardomom Powder - 1/2 tsp
Saffron - 1/2 tsp
Chopped Nuts (Almonds, Pista, Cashews etc) - 2 tblsp
Dates Syrup - 1 tblsp
Instructions:
Boil the milk in a heavy-bottomed pan for about 40-45 min on medium heat stirring often till it reduces to almost 1/4th of its original volume. This thick condensed milk is called "Rabdi."
Add sugar, cardamom powder and saffron to this and switch off. Keep this aside. Tip: You can also skip this step by using store bought sweetened condensed milk.
Boil the sugar and water for few minutes to make a sugar syrup. Keep this aside too.
Now cut the bread into desired shapes. Tip: You can use a cookie cutter and make interesting shapes. I have used a star shaped cookie cutter.
Heat ghee in a frying pan. Shallow fry the bread slices till it is golden brown and crisp. Tip: You can also use store bought croutons.
Soak the fried bread slices in the sugar syrup for about 30 seconds.
Arrange the sugar soaked bread slices in a plate. Tip: Or, you can arrange them in a plate and pour the sugar syrup on top.
Pour a generous amount of rabdi on top of this.
Garnish with chopped nuts and dates syrup.
You can serve this warm when the bread slices are still a bit crunchy or you can refrigerate and serve chilled. It tastes good either way.
Recipe courtesy: Simple Indian Recipes.