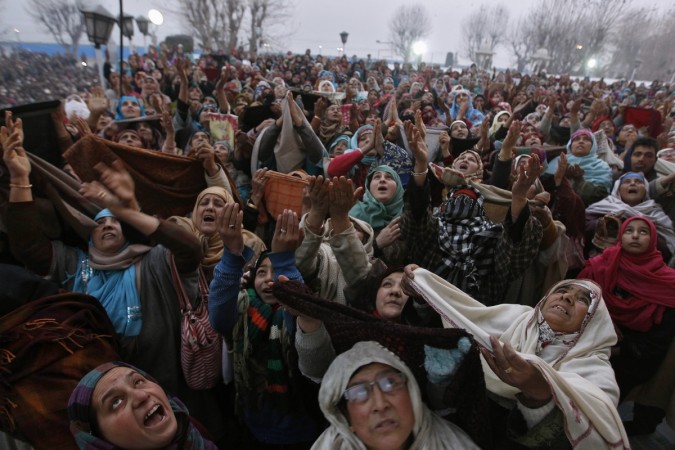 Eid-e-Milad, the birth anniversary of Prophet Muhammad, falls on the 12th day of the month of Rabi-ul-Awwal, according to the Islamic calendar. This year, the auspisicous day falls on 4 January 2014 and PM Narendra Modi made sure to greet people with a wish for the same.
"Greetings on the auspicious occasion of Eid-e-Milad-un-Nabi. May the spirit of peace, harmony & compassion be strengthened in society," Modi tweeted on Sunday morning.
Also known as Barah Wafat, the birth anniversary of the founder of Islam, is celebrated in very elaborate fashion across Jammu & Kashmir with full religious fervour, Greater Kashmir reported. The largest congregational prayers would be held at Hazratbal shrine in Srinagar where the holy relic of Prophet would be displayed, while all mosques across the state would celebrate it, regardless of the freezing temperature.
The celebration in Pakistan is expected to occur at an even larger scale, with over 10,000 police officials employed to protect the Eid Miladun Nabi procession in Lahore, The Express Tribune reported.
Messages to send friends and family to wish them on Eid-e-Milad:
Arabic
Taqabbala Allahu minna wa minkum. Eid Mubarak!
Urdu
Aur Urum E Awwali O Aakhari Hai Hai Jinke Sine Main,
Khabar Hai Zare Zare Main Ki Jise Woh Ba Khabar Aya.
Aur Shab E Milad E Aqdas Ki Masarrat Zare Zare Ko,
Magar Iblis Apne Sathiyo Main Nohagar Aaya.
Chalo E Mufliso Jo Aaj Mangohge Woh Paoge,
Ke Sadq Baat Ta Ard O Saman Ka Taajwar Aaya.
Aur Huqumat Aisi Nafiz Hai Ke Unka Huqm Pate Hi.
Ali Ke Waste Maghrib Se Suraj Lautkar Aaya.
Aur Wahabi Mehfil E Milad Main Aaye Toh Yuh Samjho,
Ki Insano Mein Kufri Boj Laade Jaise Khar Aaya.
Hindi
Jis ko allah ne dua ki tofeeq di ho, Jis ko allah astaghfaar ki tofeeq de, wo maghfirat se mehroom nahi reh sakta, aur Jis ko Allah shukar ki tofeeq ata kar de, wo naimat se mehroom nahi reh sakta, Rabi-ul-awal mubarak ho.
English
When my arms cannot reach people close to my heart, I always hug them with my prayers. May Allah's peace be with you. Wish you a very happy Eid Milad Un Nabi 2015.